CLIENT EXHIBITION: Barry Ace's bead work featured in "Anishinaabeg: Art & Power" at the Royal Ontario Museum Toronto
Entering into this stunning show at the Royal Ontario Museum (ROM) my breath was taken away by the beauty of the work. Anyone familiar with Anishinaabe beadwork will know what I mean. Also, this exhibit features Woodland paintings and prints from Norval Morrisseau as well as contemporary artists continuing the legacy of the style he made so renowned.
From the ROM website: 
With their homeland in Ontario, and communities stretching from Quebec to Alberta and Michigan to Montana, the Anishinaabeg have communicated and expressed their knowledge and cultural traditions through art for centuries, depicting the relationships between humans, their ancestors, nature, ceremony and supernatural beings known as spirits. Over time, their art was deeply influenced by both inter-community relationships with other Indigenous groups and the arrival of the Europeans to Canada. From early art forms and intricate beaded regalia to paintings and drawings from the Woodlands School art movement, these richly colourful and vibrant pieces reveal the artistic transformation of Anishinaabeg art. By showcasing the great beauty and power of this cultural history, Anishinaabeg: Art & Power highlights the shared connections among Indigenous groups, and between Indigenous and non-Indigenous Canadians.
Barry's work is featured in many of the displays showcasing how Anishinaabeg have brought traditions forward into the 21st century with vitality and aesthetic excellence. His beadwork demonstrates a rigorous and meticulous practice.
The display cases feature archival images, almost life size, of Anishinaabeg donning exquisite bandolier bags (friendship bags) or dressed in regalia. One of the displays features Barry dressed in his regalia, which he created. The image was taken in Paris where he performing for Robert's Paintings, a documentary on the Anishinaabe Saulteaux artist Robert Houle. The effect of these portraits is to create an intimacy with the guests to the space. The gaze from each subject in the blown up images printed on glass is direct and empowered.
This show will run until November 19, 2017 but it's the kind of show you will want to see twice so don't leave it until the final moment to see it. Treat yourself to going back again and again!
More info on the show can be found on the ROM website.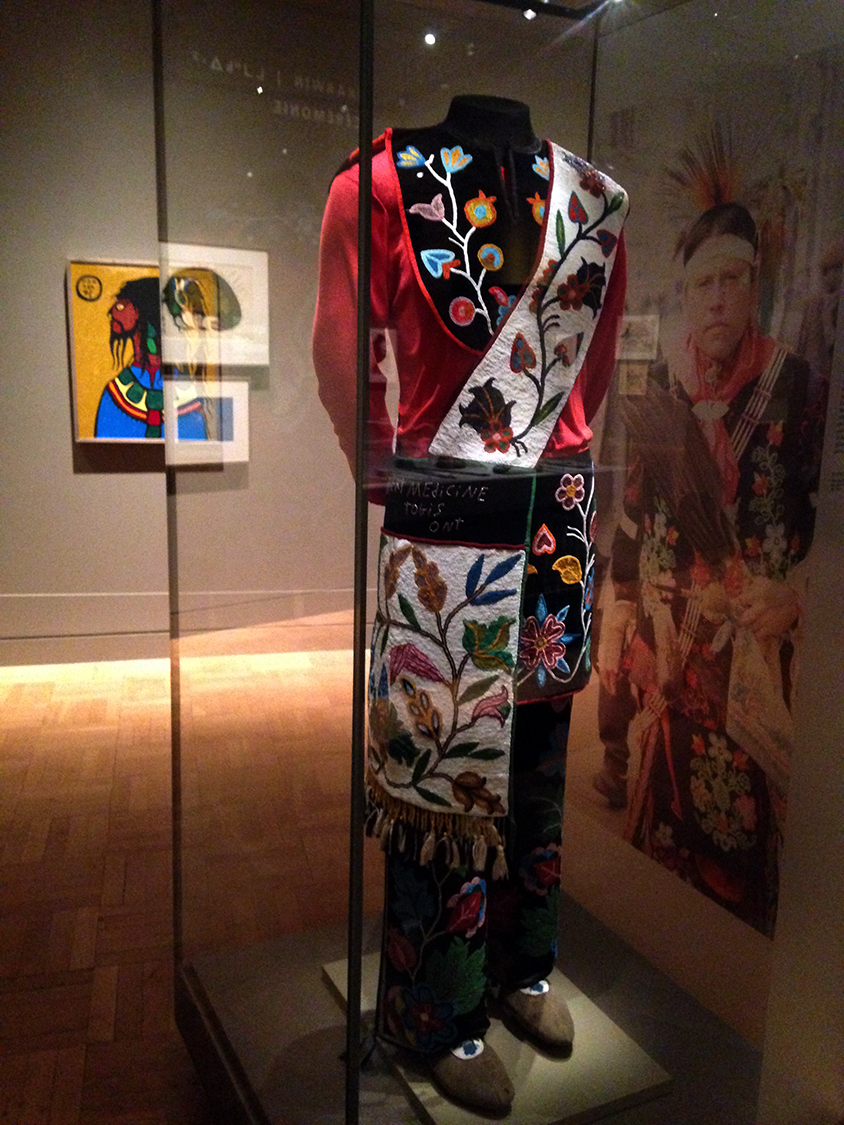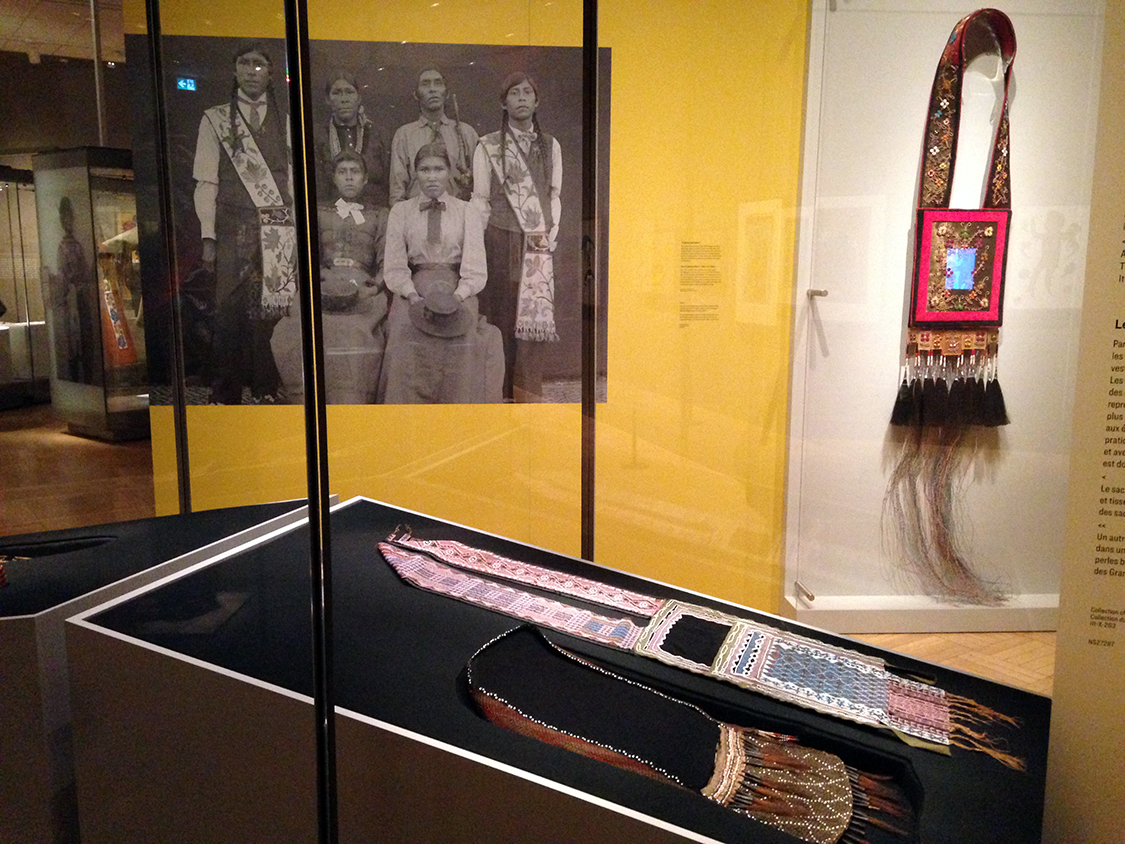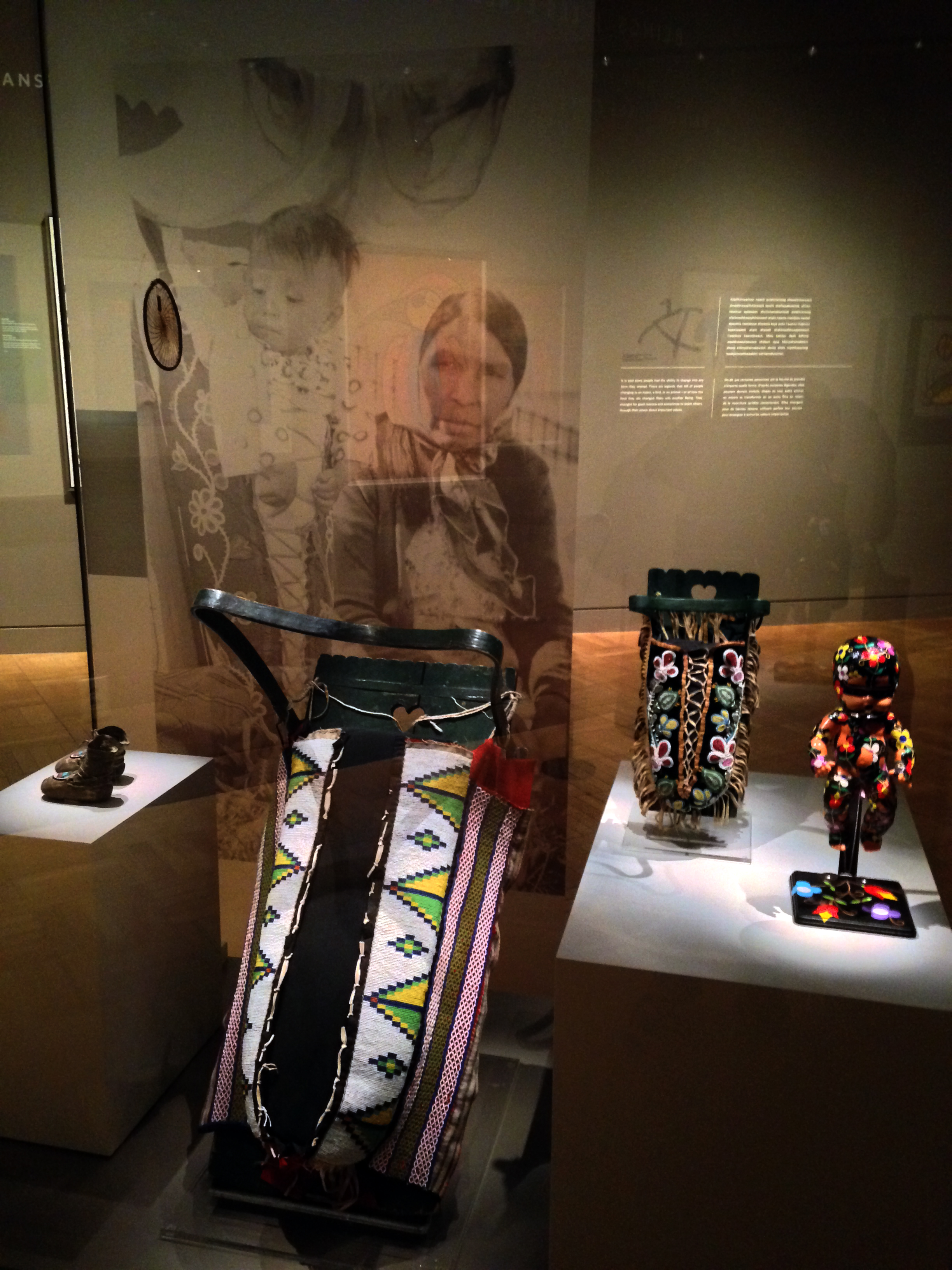 Installation images by Leah Snyder.