PRESENTATIONS & PUBLICATIONS
I have had the opportunity to write, present and facilitate discussions around art, activism, technology, design and social innovation. It's been a privilege to work with organizations and initiatives like Creative Time (New York City), the Power Plant (Toronto), OCADU's Design With Dialogue (Toronto), and locally in Ottawa the National Gallery of Canada, Ottawa Art Gallery, Gallery 101, and SAW Video. Publications include Heffel Fine Art Auction House, National Gallery of Canada magazine, Inuit Art Quarterly, C Magazine, Canadian Architect Magazine, Ottawa Life, and others. Below is a selection of my work.
2022 
ENCODING CULTURE II: THE WORKS OF BARRY ACE VIDEO
ENCODING CULTURE II CATALOGUE ON THE WORKS OF BARRY ACE FOR HEFFEL GALLERY LTD

ENCODING CULTURE I CATALOGUE ON THE WORKS OF BARRY ACE FOR HEFFEL GALLERY LTD
REVIEW: TOWARDS HOME AT THE CANADIAN CENTRE FOR ARCHITECTURE FOR CANADIAN ARCHITECT MAGAZINE
ATIQPUT: INUIT ORAL HISTORY AND PROJECT NAMING
A multigenerational discussion of culture, history, and naming centring on archival photographs of Inuit whose names were previously unrecorded.
2021
ESSAYS ON THE WORK OF BARRY ACE FOR HEFFEL GALLERY LTD
March this year was spent interviewing and writing about artist Barry Ace to produce a series of 12 essays on his work for Heffel Fine Art Auction House which is now representing individual artists. Barry is Heffel's first Indigenous artist on their rooster for private sale, that includes Canadians artists David Blackwood, Joe Fafard and Betty Goodwin.
For Ace, he claims his work is not about "reproducing an object as a replica but rather using the work as a reference or sounding board." As with much of Ace's oeuvre, there is a reverent citation of the historical that he builds on to create a contemporary iteration. When viewing Bodmer's work, as captured by his colonial gaze, "we are looking at a historical stasis," Ace asserts. Ace's own work, with its innovative and beautiful use of repurposed electronic components, breaks the colonial confinement to set Indigenous culture into the present.
The essays launched on their digital platform on April 22. View all work and accompanying essays here.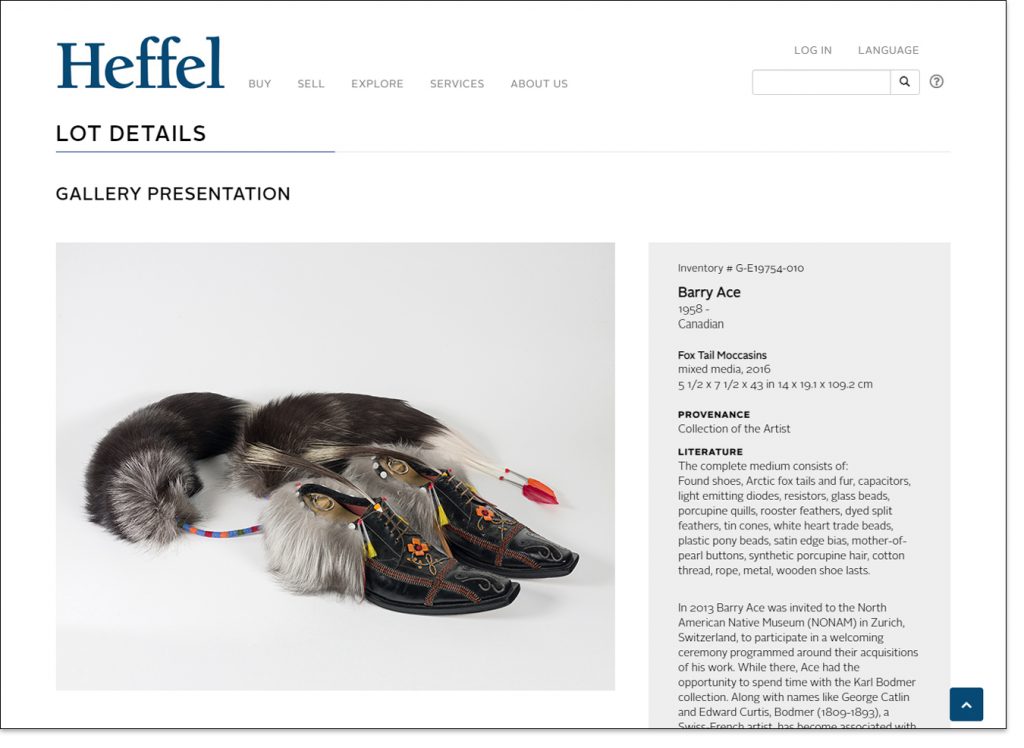 Preferable as it would have been to do this Q&A in-person sitting in front of Michael Belmore's stunning work, Lost Bridal Veil Falls, installed in the Michael and Sonja Koerner Family Atrium at the National Gallery of Canada, it was still a pleasure to speak with him about the work, his materials and process during one of many lockdowns.
As people, we may modify and intervene, make a mark or deliver a blow, but we are only a small part in the sequence of what has come before and what will come after. At this overwhelming time of increasingly accelerated societal and climate change, I have appreciated how artist Michael Belmore's work has us consider glacial speed and the permanence of natural materials. In this consideration, there is transcendence beyond this mere moment. The elements of Earth are resolute and will remain. Belmore's oeuvre is a contemplative murmuration of this statement of fact.
Read the full article here.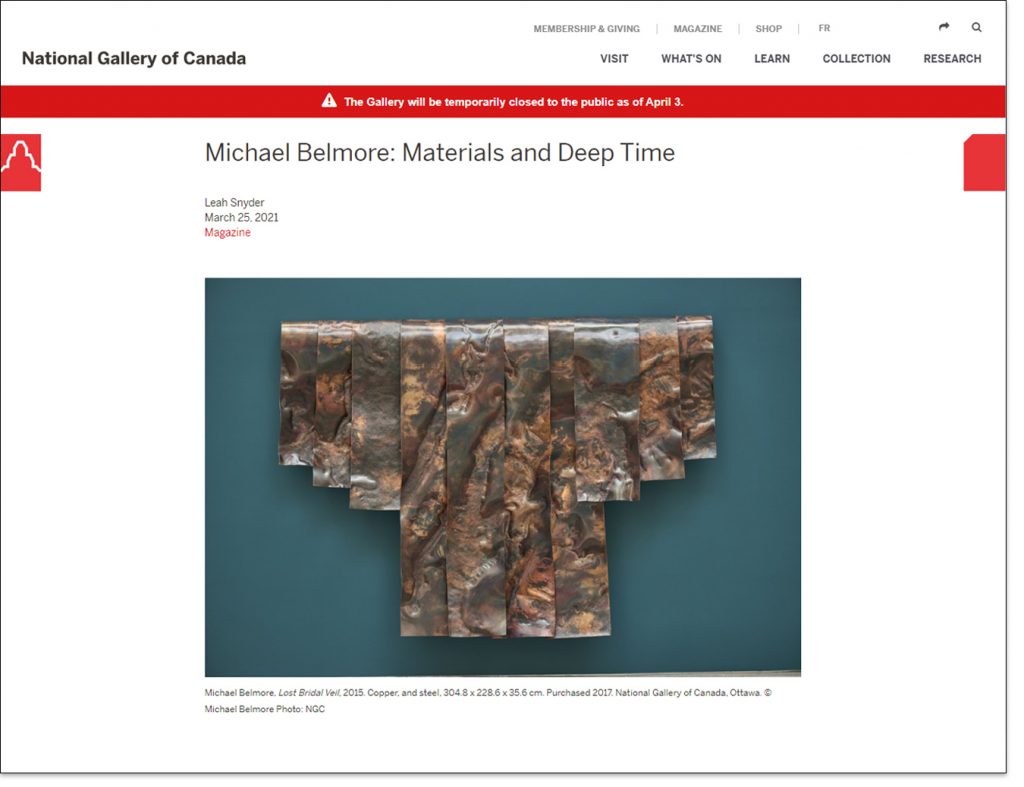 2020 
A CONVERSATION WITH ÀBADAKONE ARTIST EVGENIY SALINDER
It's strange to have written an article for the National Gallery of Canada for both the opening and now the re-opening of the Àbadakone exhibition but these are strange and unprecedented times. As I type this, the NGC has just reopened to the public and Àbadakone has been extended until October 4, 2020. During the Lockdown, over Zoom, I had the opportunity to speak with Evgeniy Salinder, a Nenets artist from Siberia whose work is included in the show. We met during the opening Fall 2019 and I was struck by his work. I wanted to know more about how his Nenets culture informed his practice and aesthetic. For this article, I had a chance to find out.
Visiting the exhibition before the Gallery's closure due to COVID-19, I was pulled into their miniature world and was intrigued watching other visitors drawn into the work in the same way. At a moment when grand installations are the trend, it was refreshing to lean in close and linger on works small enough in scale to make it possible to take in all the details rendered by the artist's hands.
I am excited that I will be able to visit his pieces yet again and that others as well will continue to have a chance to experience his exquisite work.
Read the full article here.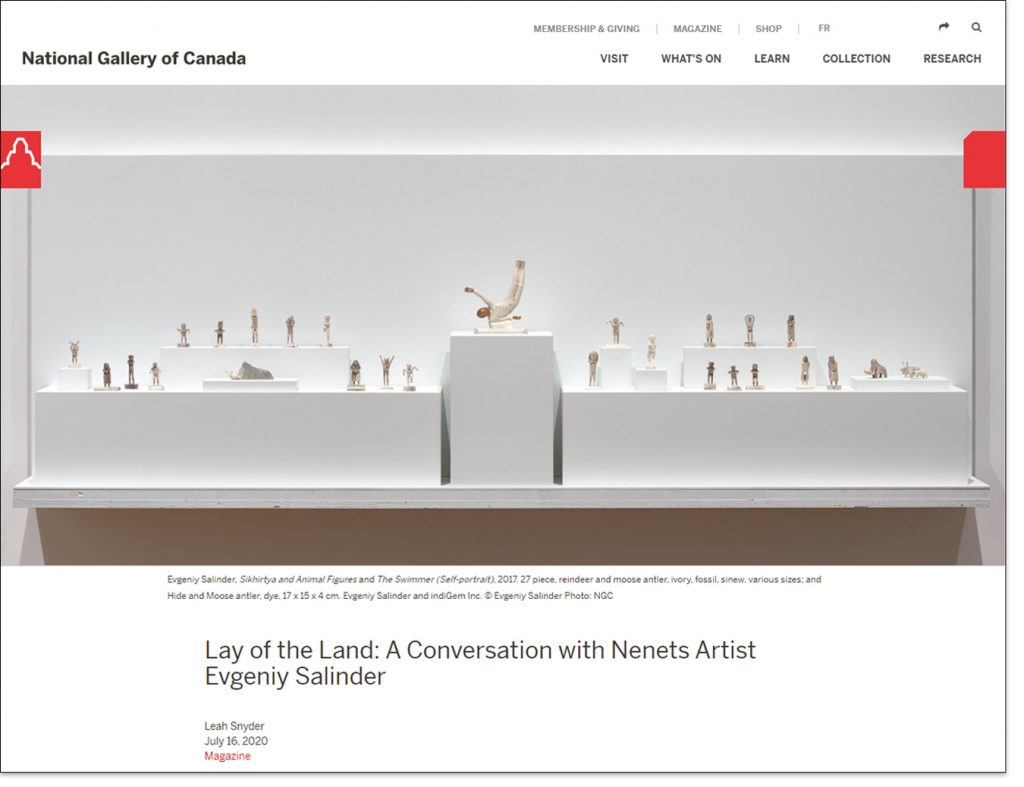 2019 
ÀBADAKONE | CONTINUOUS FIRE | FEU CONTINUEL AT THE NGC
In the summer of 2013, I came to Ottawa to cover the National Gallery of Canada's Sakahàn, the international Indigenous art exhibition that was the first of its kind. Although I had visited Ottawa many times before, this time I sensed something different. At the events associated with Sakahàn I met many of the area's arts community and cultural provocateurs. On a hunch I came back in the Fall of 2013 for what I thought would be a short time. I am still here.
When asked why relocated from Toronto to Ottawa I would respond "I came for Sakahàn, and stayed for the After Party." Something important was happening and I wanted to contribute to that change. In the time since the summer of Sakahàn, the National Capital Region (NCR) has been the location for important events – the closing of the Truth and Reconcilation Commission in 2015, events around Canada 150 in 2017, as well as many marches, demonstrations and occupations centred around injustices to Indigenous people under the Canadian State. This area's artists and institutions have played an important part in cultural redress. It has been exhilarting to have been part of the momemtum created.
This past Fall 2019, the National Gallery of Canada commissioned me to write a preview on the newest iteration of the international Indigenous art exhibition – Àbadakone | Continuous Fire | Feu continuel. It provided an opportunity to reflect on a moment and a community that has come to mean so much to me.
What has also been incredible to witness, as a digital designer, is the growth of the algorithm of the Indigenous arts community, the connections made and the trajectories taken since 2013.
"These auxiliary locations provided the opportunity to meet both local and international artists circulating that summer, with friendships being formed that then extended and were nurtured over digital networks. Posting their experiences online, the artists created a digital archive of a critical moment of cultural transformation, one building on the momentum of the winter of #IdleNoMore. With Sakahàn – meaning "to light [a fire]" in Algonquin – a precedent was set with an exhibition format that brings more voices into the expanding circle of contemporary Indigenous art. Social media has been the accelerant."
Read the full preview – Inspired Gathering: the International Indigenous Art of Àbadakone – here.
2018
HERITAGE AND MEMORY IN CANADA & CENTRAL EUROPE
I had the chance to travel to Berlin and Warsaw in October 2018 for a research trip that focused on heritage conservation, commemoration and memory studies. While in Berlin I presented to a group of museum professionals from the Pergamon Museum on commemorations by Indigenous artists that have taken place at sites located in Europe – namely the work of Barry Ace, Carl Beam, Robert Houle and Jeff Thomas.
Inspired by Houle's Paris/Ojibwa, Ace undertook four honouring dance performances in full regalia that were based on four of dancers from Maugwudaus' dance troupe. The piece entitled A Reparative Act was performed at four site-specific locations in downtown Paris: Maungwaudaus (Great Hero), Louvre; Noodinokay (Furious Storm), Jardin des Tuileries; Mishshemong (King of the Loons), Place de la Concorde; Saysaygon (Hail Storm), L'esplanade des Invalides. (more info)
Read more about the presentation and view images here.
REVIEW: ÀDISÒKÀMAGAN / NOUS CONNAÎTRE UN PEU NOUS-MÊMES / WE'LL ALL BECOME STORIES
For C Magazine's Trust issue I reviewed the Ottawa Art Gallery's inaugral exhibition in their new facility. Issue available here.
It is certain curatorial juxtapositions of landscape which prompt renewed considerations of the region. Farouk Kaspaules' enigmatic The Return (2007) calls to mind the view of Ottawa as seen from Asinabka, the island that lies below Parliament Hill. The silkscreen print, monumental in size, is positioned in proximity to Greg A. Hill's Cereal Box Canoe (2005) and its accompanying performance footage, Portaging Rideau, Paddling the Ottawa to Kanata (2005). The Return depicts boats called mashoof and domed communal longhouses called mudhif in Arabic, both traditionally constructed from reeds in the marshlands located in the confluence of the Euphrates and Tigris rivers. The black outlines of the mashoof echo the cardboard canoe displayed close by that carried Hill, during his performance, from the Rideau Canal to the shoreline of Asinabka.
2017
CREATIVE TIME SUMMIT TORONTO: OF HOMELANDS & REVOLUTION
In September, along with so many colleagues and friends I hold in high esteem, I participated in the Creative Time Summit 2017 that was hosted in Toronto in partnership with the Power Plant gallery. I facilitated a conversation on thinking about words versus practice. Artist Camille Turner was also part of the workshop sharing about her artistic practice that challenges dominant narratives by using performance based methods and talking tours that move the body through spaces of erasure. The title was Walking the Talk: Is Real Change Possible or Do Words Get in the Way?  I appreciated the insight of those that showed up to have a conversation challenging the ways we may use words to get out of responsibility. The presence of artist Cheryl L'Hirondelle, who was not able to come, was greatly missed.
WORKSHOP DESCRIPTION:
In conversation with Cheryl L'Hirondelle and Camille Turner, Leah Snyder will facilitate a dialogue around the language we have come to use. Post Idle No More and the Truth and Reconciliation Commission words like decolonization, (re)conciliation, and sovereignty as well as indigenization, apology and treaty have more familiar. Are they passive rhetoric solidifying the status quo, or can they be culturally transformative? Together we will explore what these words look like when we translate them into an active force for change. When we walk the talk, what can the future imaginary look like?
Below I share one of my favourite talks from the Summit, the always moving Wanda Nanibush, speaking experiencing the memory of land and the loss of land in the body.
For the Ottawa Art Gallery (OAG), I facilitated a "collective reading and discussion of an excerpt from Susan Sontag's 1977 collection of essays On Photography." The evening brought together an interesting mix of community members who shared a passion for photography.
2016
INUIT ART QUARTERLY REVIEW OF FLOE EDGE AT GALERIE AXENEO7 (Gatineau, Quebec)
The National Capital Region has a very supportive art community; even so, the tightly-packed crowd at the AXENÉO7 Gallery was a sign that the opening of Floe Edge was a special event. The crowd included the artists and guests who had come to Ottawa for the Northern Lights Conference, as well as many locals who ventured out on a damp Tuesday night to see some of the best and most promising new work from the North. Floe Edge is a sexy show. In the main exhibition space, images of snow and ice are contrasted with sealskin stilettos by Nicole Camphaug and a sealskin bikini by Nala Peter, both Nunavut- based artists. These wearable art objects provide a wry critique on Southern expectations of Arctic fashion; they are hung prominently in the gallery's back window and lit seductively to pique the curiosity of outsiders.
ᓯᓈ / Dérives de glace / Floe Edge from Pink Tuxedo Productions
ᓯᓈ: ᓄᑖᑦ ᓴᓇᐅᒐᐃᑦ ᐊᒻᒪᓗ ᓴᓇᙳᐊᖃᑎᒌᑦᑐᑦ ᓄᓇᕗᒥ
Dérives de glace : Art contemporain et collaborations du Nunavut
Floe Edge: Contemporary Art and Collaborations from Nunavut
Presented by: AXENÉO7 and the Nunavut Arts & Crafts Association
The floe edge is an apt metaphor for the work of the artists presented in this exhibition, who—like the free-moving ice floes—have remarkably active and thoroughly intersectional practices that integrate personal, cultural, and historical narratives.
2015
SAW CITY DEBATE FOR OTTAWA ARCHITECTURE WEEK
I am invested in the cultural infrastructure of Ottawa and over the next few years this city has will undergo many changes that will impact those inside and on the peripheries of the arts community. It's important to have dialogue around what this could mean. I was asked by SAW Video to participate in a panel discussion around the Arts Court redevelopment.
From SAW:
"As part of Ottawa Architecture Week 2015, the next SAW City Debate will pick up key points of last editions' discussion about the future of Ottawa's cultural spaces. Starting from the Ottawa Art Gallery Expansion and Arts Court Redevelopment the panelists will discuss the project's implications for the local arts and cultural scene, as well as its larger impact on a regional and national level."
Panelists:
Rachel Kalpana James (Visual Artist and Arts Administrator)
Kwende Kefentse (Cultural Developer, City of Ottawa + Other)
Barry Padolsky (Architect, Barry Padolsky Associates Inc.)
Leah Snyder (Editor of Mixed Bag Mag and Convener for We Are Cities)
Moderated by Penny McCann
REVIEW OF THE VENICE BIENNALE FOR C MAGAZINE'S QUESTIONING CITIZENSHIP EDITION
We have arrived at an intimate global moment. Populations displaced by war and resource extraction and Indigenous peoples are linked together in a complex embrace. Indigenous peoples have always been impacted by migration and as a result have devised and utilized political and social mechanisms, like wampum, to peacefully integrate newcomers into their communities. For Rickard the "Kaswhenta is a path from violence to peace" – a way out from under the oppression of nation states as well as a prototype for moving forward with equitable relations. Foregrounding the interventions of Indigenous artists within the landscape of the Biennale would have offered reinforcement to Okwui Enwezor's curatorial proposition that art has the capacity to provide the world with both an exit as well as a future.
2014
ART AS RESISTANCE PANEL DISCUSSION AT THE OTTAWA ART GALLERY IN COLLABORATION WITH THE PEOPLE'S SOCIAL FORUM
Art as a form of resistance is a major research focus of mine. I was invited by the Ottawa Art Gallery to moderate a panel of artists who use art to resist against government systems, environmental degradation, market economies and more.
From OAG:
"Beyond illustrating the issues at stake, can aesthetic forms themselves offer models for collaboration and movement building?
How do artists' practices shift in response to revolution? Is a revolution a work of art?
What decolonizing strategies can we learn from artists performing and inserting their work in public space?
What role does spectacle play in creating an open space for dissent?"
Panelists:
Adam Brown (Ottawa)
Amira Hanafi (Cairo)
Scott Benesiinaabandan (Montréal)
Emily Rose Michaud (Montréal/Outaouais)
Moderator: Leah Snyder (Ottawa/Toronto)