PRESENTATION: Speaking in Berlin on commemoration, difficult histories and the work of contemporary Indigenous artists
Recently I arrived back from a research trip in Berlin and Warsaw, part of a cultural exchange course between PhD students from the Technical University in Berlin and Masters and PhD students in Ottawa at Carleton University. While in Canada, the students from Germany, many working in museology, urban planning and memory studies, visited various cultural institutions and organizations in Montreal, Ottawa, and Toronto. During their stay in Ottawa, the National Gallery of Canada (NGC) and Ottawa Art Gallery (OAG) hosted talks and tours on current and recent exhibitions – the rehang of the Canadian and Indigenous Galleries at NGC and Àdisòkàmagan  / Nous Connaître Un Peu Nous-mêmes / We'll All Become Stories at OAG.
We were also hosted at Minwaashin Lodge, a support centre for Indigenous women, and even had a night of karaoke at the Shanghai after a fantastic tour on the history of Ottawa's Chinatown by artist Don Kwan. Don's parents started the Shanghai Restaurant in 1971 and within the Ottawa arts community Shanghai's karaoke night with drag queen hostess China Doll has become something of its own institution. (read Ottawa Citizen article on China Doll)
The goal of the course, as outlined in the syllabus, was to spark dialogue around looking at "urban space devoted to recording and performing memory in order to gain insight into heritage conservation theory and practice." While in Canada, the talks and tours focused on issues like the Truth and Reconciliation Calls to Action (download Calls to Action document) as applied to practices at cultural institutions (read Canadian Art's The Hard Truth about Reconciliation) as well as looking at ways to commemorate difficult histories in an urban Canadian context. During our trip to Germany and Poland, our research centred around Holocaust commemorations as well as how the fall of the Soviet regime in both East Berlin and Warsaw has been dealt with through the lens of heritage conservation practices. We were also given tours by some of the Berlin students that involved looking at such topics as the landscape of Turkish resistance in Berlin, the exhibition Beyond Compare: Art from Africa in the Bode-Museum, and museum initiatives and interventions by Syrian heritage and culture professionals at the Pergamon Museum.
After a particularly jammed packed and enlightening day touring Museum Island in Berlin, spending time at the architecturally stunning redesign of the Neues Museum by British architect David Chipperfield followed by more tours at the Pergamon, I presented to a group from the Pergamon who are working on initiatives that look at other ways to engage with the collections of the Pergamon, particularly the Middle East Museum and Islamic Art Museum.
My own presentation focused on the work of my clients whose projects have touched on Indigenous ways of commemorating difficult histories, particularly projects that were either carried out in Europe or drew upon connections between atrocities in Canada and Europe. The presentation content arose from conversations with Barry Ace as we worked together on digitally archiving his performance A Reparative Act, a poignant work that opened Robert Houle's Paris/Ojibwa exhibition in Paris in 2010. The work of both Barry and Robert was about honouring and commemorating a group of performers who travelled to Europe in 1843 as part of George Catlin's Indian Curiosities show. While in Europe they performed for royalty and sat for Eugene Delacroix whose sketches Cinq études d'indiens were discovered by Robert during his Canada Council residency in Paris. Upon this discovery Robert was moved to engage with the story of these performers. One of the dance troupe members was Maungwudaus, also known as George Henry (more info). After he arrived back from Europe he published his travel journal, a rare first person account of an Indigenous person travelling and reflecting on European people, customs and culture in the mid 1800s. His writings also recorded the death of his wife, some of his children and other members of the troupe who died from smallpox, the virus that decimated Indigenous populations in North America. (read here)
Inspired by Houle's Paris/Ojibwa, Ace undertook four honouring dance performances in full regalia that were based on four of dancers from Maugwudaus' dance troupe. The piece entitled A Reparative Act was performed at four site-specific locations in downtown Paris: Maungwaudaus (Great Hero), Louvre; Noodinokay (Furious Storm), Jardin des Tuileries; Mishshemong (King of the Loons), Place de la Concorde; Saysaygon (Hail Storm), L'esplanade des Invalides. (more info)
As well, I spoke on Jeff Thomas' series, Red Robe, a type of visual travel journal where he inserts a stoic plastic indian figure into the iconic landscape of London and Paris as well as Carl Beam's ceramic vessels that honour the life of the young Anne Frank, making connections between colonial genocides both with Indigenous people in North America and Jewish people in Europe. The work of Michael Belmore also informed my presentation. Michael's work for Parks Canada's Landmarks2017, a project that dialogued with the commemoration of Canada's Sesquicentennial, looked at the movement of rocks as a form recording time.
Belmore has created a moment of connection between deep geological time of stone and the linear human time of labour. On the occasion of the 150th anniversary of Confederation, this connection acts as a reminder of how the timelines of national celebration do not take into account the timelines of the land on which they take place. (more info)
The projects presented on by the Berlin group focused on important initiatives undertaken by Germans and Syrians invested in creating museum spaces that are self-critical on collections that have objects acquired in less than ethical ways. The projects included:
Multaka: The Museum as Meeting Point – Refugees as Guides in Berlin Museums
The idea of this project was developed in late 2015 by Syrian team members of the Syrian Heritage Archive Project. The Multaka project involved training 24 Syrian and Iraqi refugees as museum guides, allowing them to offer museum tours to other Arabic-speaking refugees in their mother tongue. Since August 2018 the guides have also been offering English- and German-language tours to visitors to the Museum für Islamische Kunst, the Vorderasiatisches Museum, the Bode-Museum und the Deutsches Historisches Museum. In this context, multaka (Arabic: 'meeting-point') also refers to the exchange of different cultural and historical experiences.  (project website)
Built Heritage Documentation – Damage Mapping
This side-project arose out of the work of the Syrian Heritage Archive Project and became a second track of its archival work. The Damage Assessment Database augments historical data by adding information about destruction of architectural and archaeological Syrian cultural heritage caused by the present war. Data on, among other things, the administration, history and location of buildings is being collected via regularly updated photographs and sound and film recordings. To this data the team adds detailed evaluations of the condition of buildings and in each case estimates how urgent it is that a building be secured. The damage mapping is based on UNESCO rapid assessment surveys and the European Standard EN 16096, which provides guidelines for condition surveys of built cultural heritage, and thus on experience in cultural heritage preservation. The aim of the project is to gather detailed knowledge that can be used to plan reconstruction. (read more)
Aleppo at the Meeting of Ways – Documenting the Built Cultural Heritage of Aleppo
Given that its countless mosques, madrasas, churches, bazaars, caravanserais, city gates and citadels have been particularly affected, Aleppo's Old City is a focal point of condition documentation efforts. In view of the dimensions of this task, the Gerda Henkel Stiftung has, since 2017, supported an important side-project of the Syrian Heritage Archive Project, which documents the destruction of historical monuments in the Old City and catalogues its structures. (read more)
To speak on the work of artists whose practices I value was a welcomed opportunity. Thank you / Miigwetch / Nya:weh to Barry Ace, Anong Beam, Michael Belmore and Jeff Thomas.
Also, Thank you / Dziękuję / Danke / Teşekkür Ederim / Choukran to the following people: my professor, Jurek Elzanowski, and research assistant Emily Putnam for organizing this trip, to the Berlin students Gulsah Stapel, Claudia Jurgens, Jochen Kibel and Zoya Masoud for their informative tours and passion for their work, and to Gabi Dolff-Bonekämper for an incredibly moving final tour of Holocaust monuments in Berlin.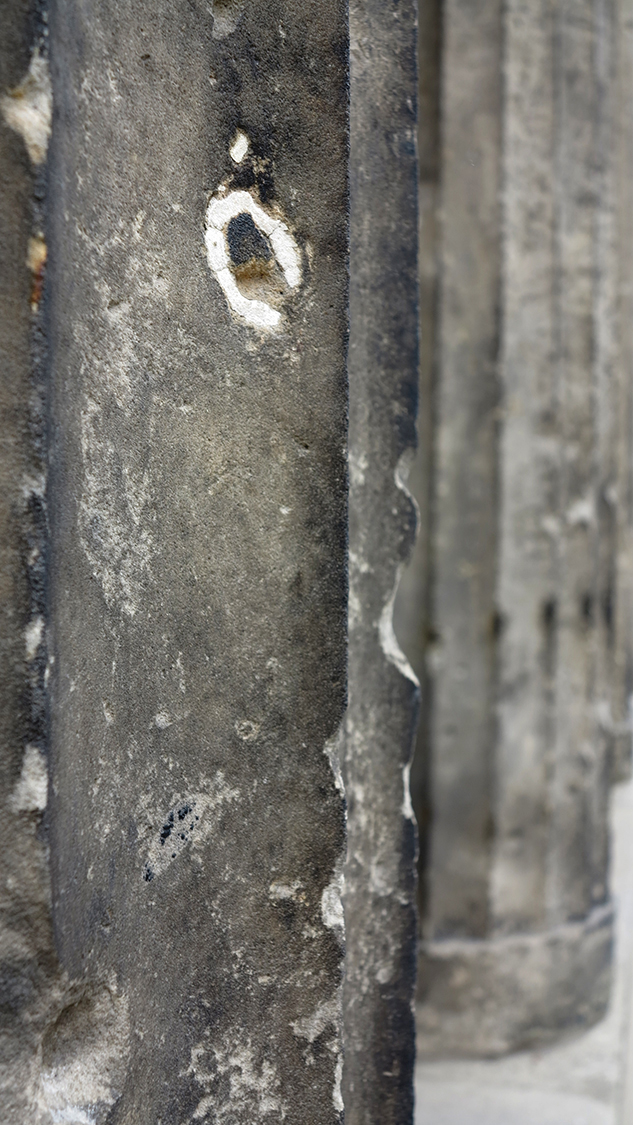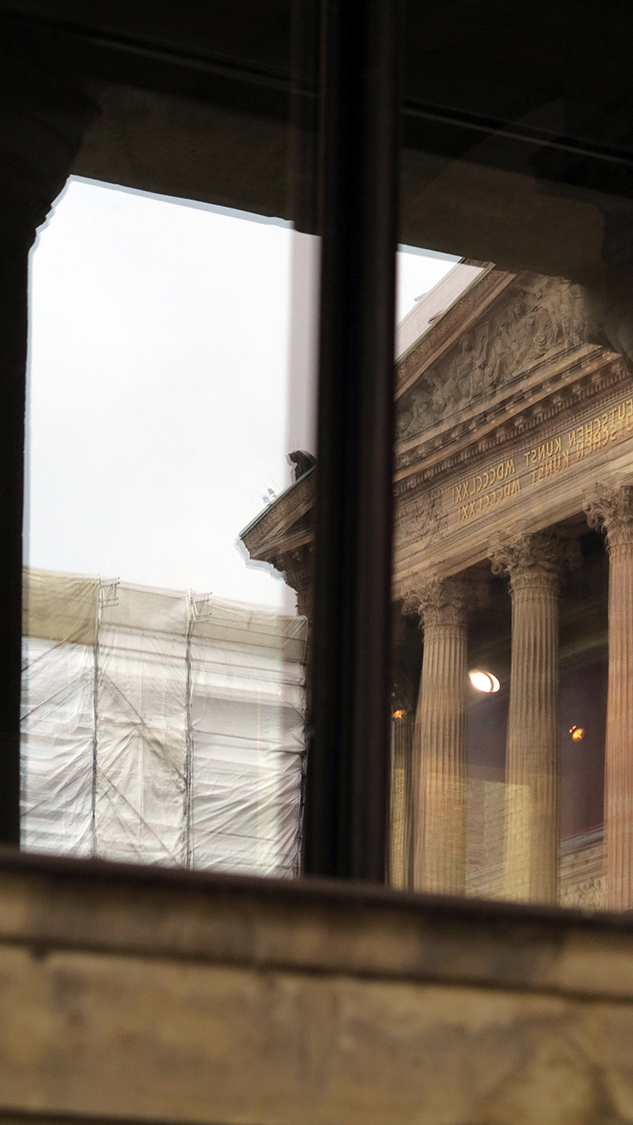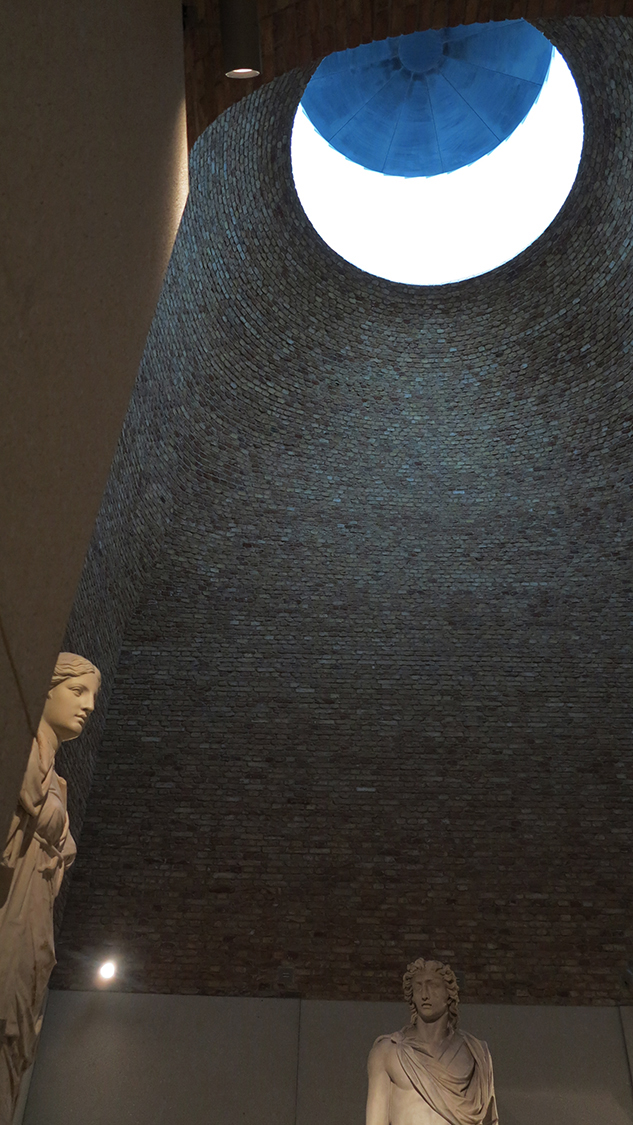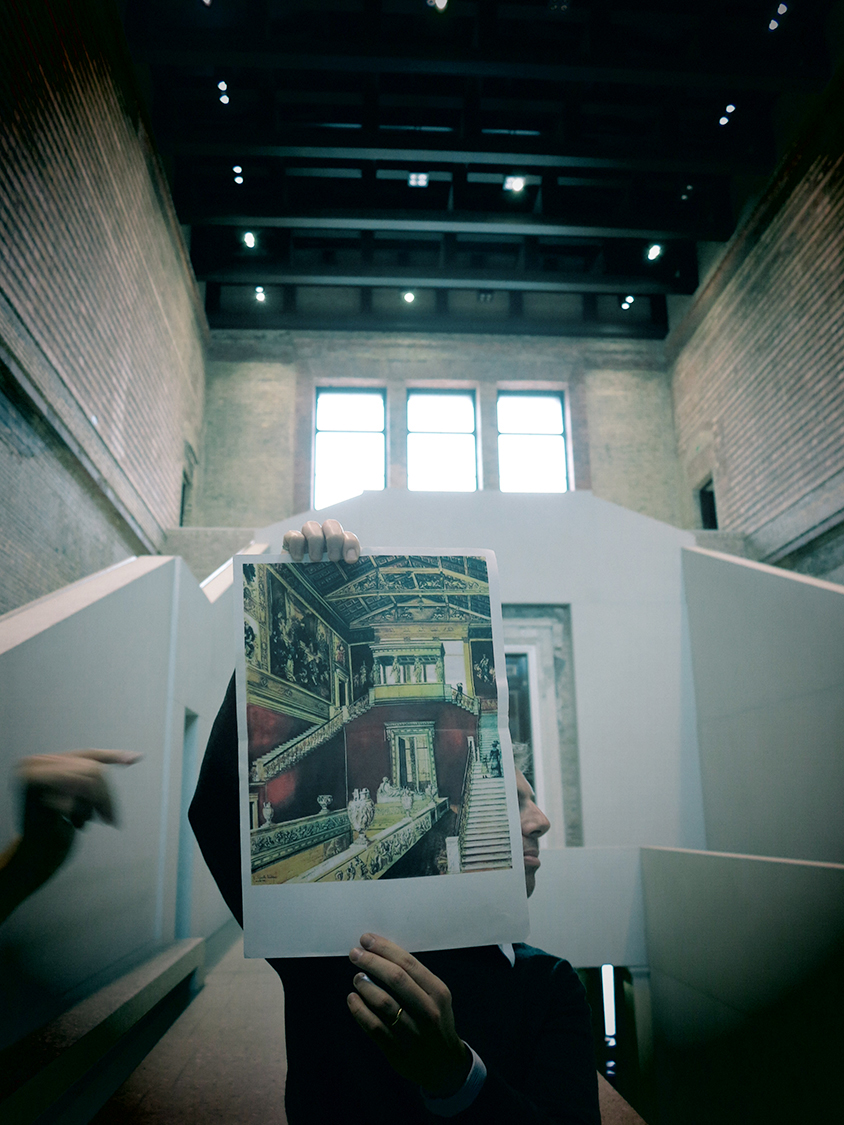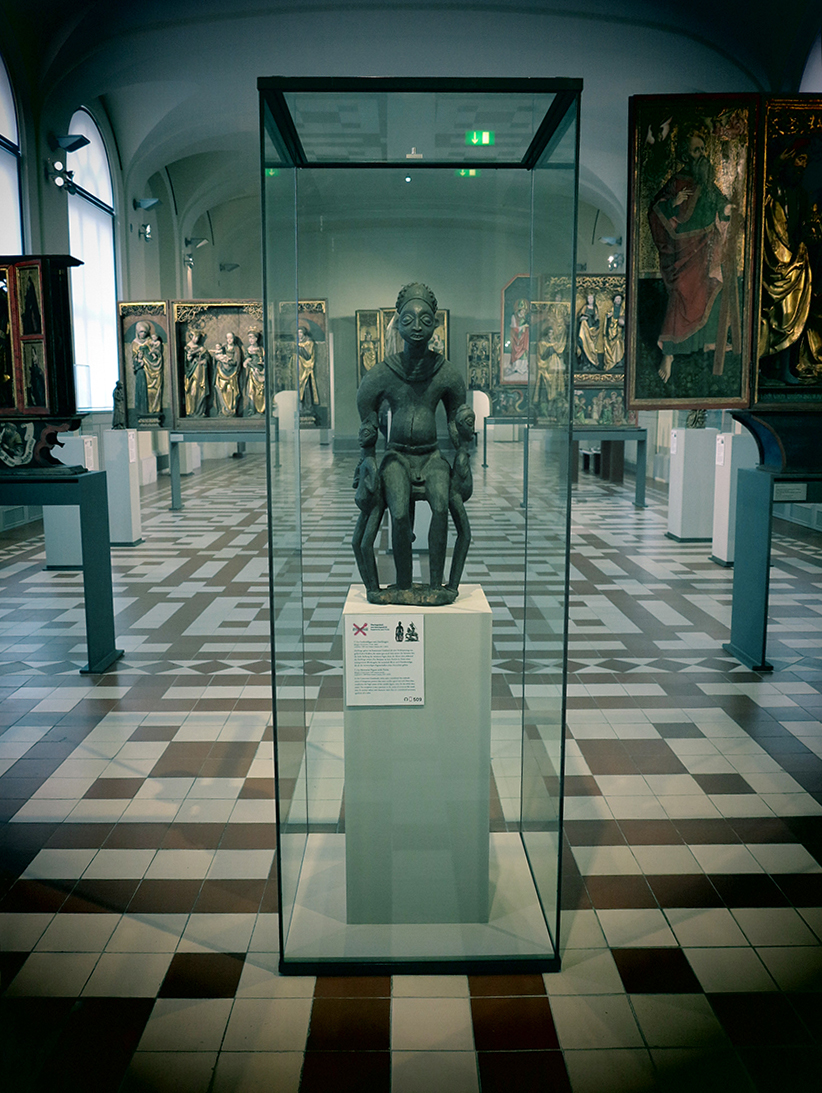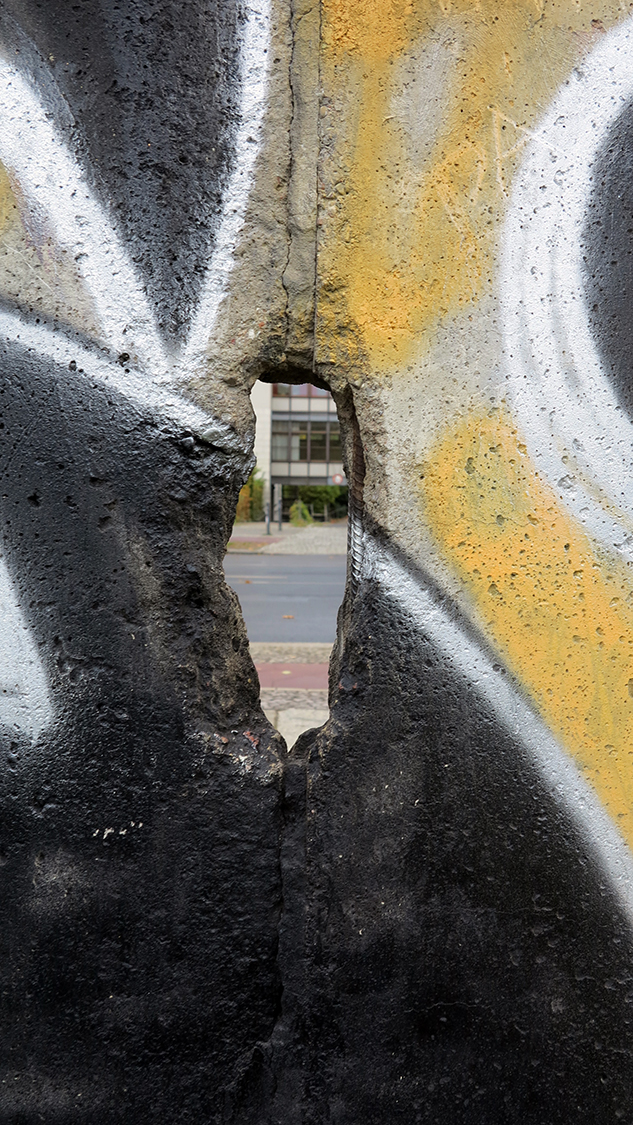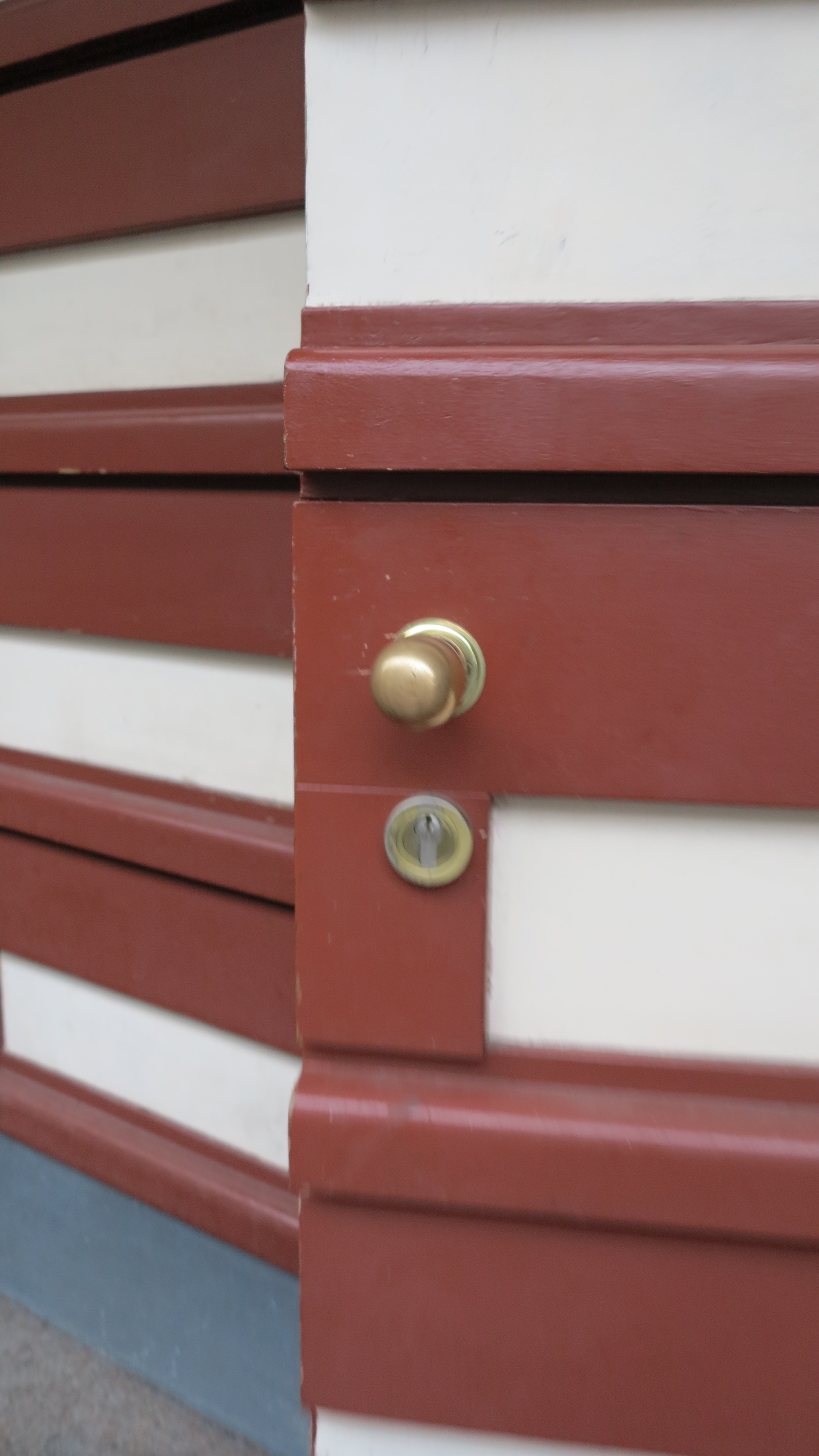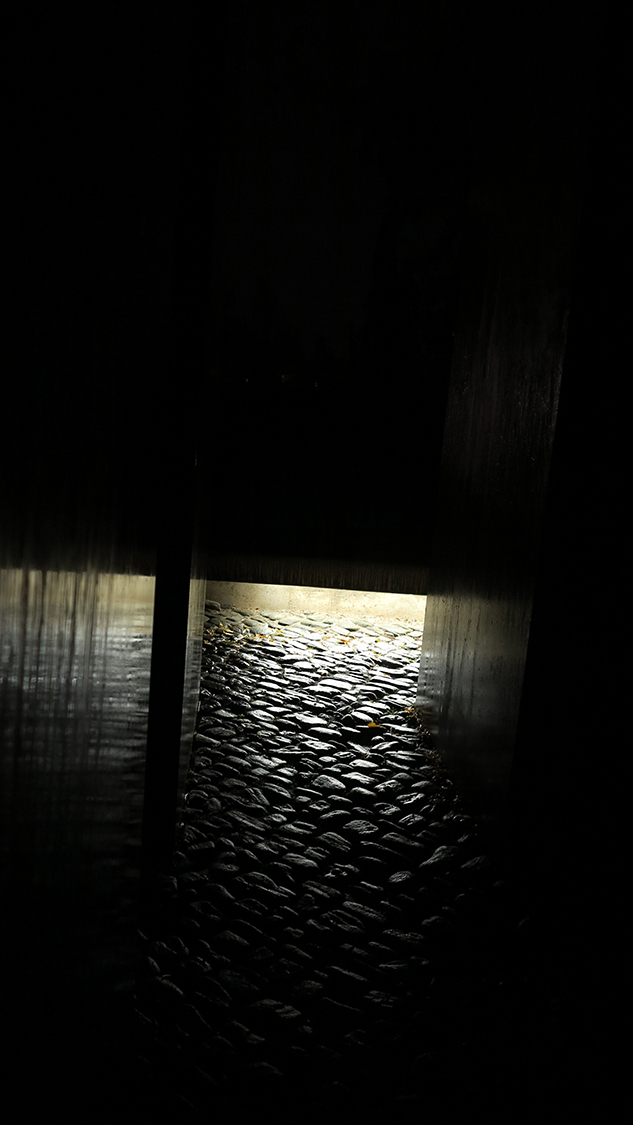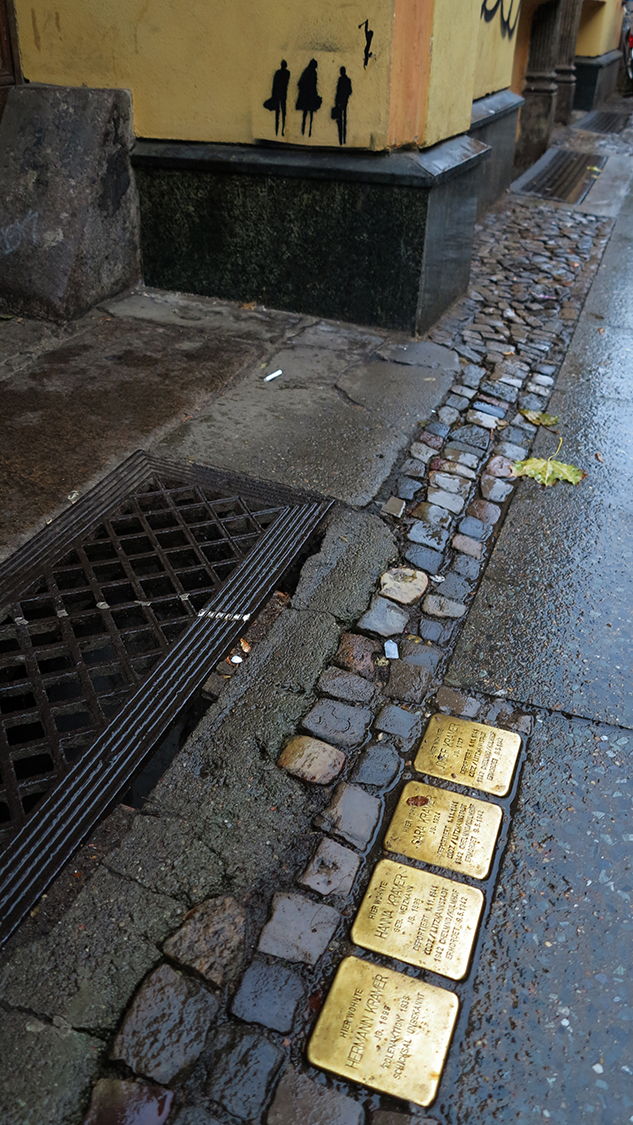 IMAGES: View from Schinkelplatz (the omnipresence of architectures of construction and the Berlin TV Tower), columns at the Neues Museum (the ever present bullet holes on Berlin's buildings), Neues Museum (classical lines and scaffolding for processes of building preservation), inside the Neues Museum (repurposed handmade bricks), inside Neues Museum (demonstrating the 'Before and After' of David Chipperfield Architects' reconstruction), Bode Museum (Beyond Compare: Art from Africa exhibition), Gedenkstätte Berliner Mauer (salavaged sections of the Wall at the Berlin Wall Memorial), Jewish Girls School in Mitte (building reporposing project honouring the memory of the children lost), Garden of Exile in the Jewish Museum (example of architecture commemorating difficult histories), stumbling stones in the Mitte area (marking in commemoration where Jewish residents of Berlin where removed from their homes by the Nazis.) All above images by Leah Snyder.

PRESENTATION NOTES & SLIDES
My presentation began by passing out to the audience a fossil that I had brought from Manitoulin Island. Possibly hundreds of thousand years old, it is at once from a far removed past yet physically present in this moment and will exist hundreds of thousands of years into the future. The opening image was the area where I found the rock while walking along the shoreline of the island. Using screen caps of my clients' websites I talked on Michael Belmore's work for LandMarks2017, a Parks Canada project followed with Barry Ace's A Reparative Act performance in Paris, part of Robert Houle's Paris/Ojibwa exhibition in 2010. For Jeff Thomas, I included his Seize the Space series which is in dialogue with the Champlain monument at Nepean Point behind the National Gallery of Canada, Ottawa as well as the Anishinaabe Scout monument once below Champlain, now relocated across the street at Major's Hill Park. I also included other work that dialogues with the architecture and monuments around Ottawa. While the students from Berlin were in Ottawa we visited many of the same locations. His Red Robe series uses the intervention of plastic figurines to insert Indigenous presence in European spaces. Another project I touched on and will be doing more research on is Carl Beam's work  that commemorated the life of Anne Frank.
While in Berlin, I began to think about how trees are always present to bear witness to difficult histories and cultural trauma. What do they say to us as they stand in the wake of historical time passing?
The presentation ended with an image, of the same fossil I had passed around earlier, photographed where I had placed it on top of a larger rock. Perhaps this was the original piece it belonged to before the movement of water and the passing of time separated it and now, through a contemporary intervention, they meet again.