PERFORMANCE ART: Catherine Richard's "Shroud / Chrysalis" closes @OttawaArtG
This past weekend I went to the Ottawa Art Gallery (OAG) for the final day of artist Catherine Richards' "performance and interactive new media installation" Shroud / Chrysalis. If one so desired, a team of volunteers would wrap you as a shroud in a blanket of copper tafetta. The copper blanket blocks out all those pesky 21st Century tech vibes so you can lie down in peace, if only for short moment.
Shroud/Chrysalis I explores our immersion in electromagnetic fields, the stuff of new technologies and ourselves. To participate, you are invited to be wrapped in copper taffeta, an electro-magnetic fabric that will shield and disengage you from cell phones, radio, television and other signals. For most of us it is the first time we have been truly disconnected.
I was one of that last participants after its run from May 26 – July 14, 2018 as part of OAG's inaugral show, Àdisòkàmagan / Nous connaître un peu nous-mêmes / We'll all become stories in its new building. The installation was in the beautiful Stonecroft Project Space, where Anna Williams' Canada House was previously installed for the initial opening.
Usually, I prefer to be behind the scenes so I had asked the volunteers wrapping me to tell the audience gathering – no pics please! When I heard my friend, OAG curator Michelle Gewurtz, sush the crowd then usher them out of the space so the photog, Ming Wu (www.photogmusic.com), could shoot my portrait with out all the visual chaos of bodies (my directives) I had an ephiphany come from deep in my soul. And it came with the voice of true clarity.
"I enjoy being the centre of attention."
A performance artist is born.
Thanks to OAG for another great public initiative!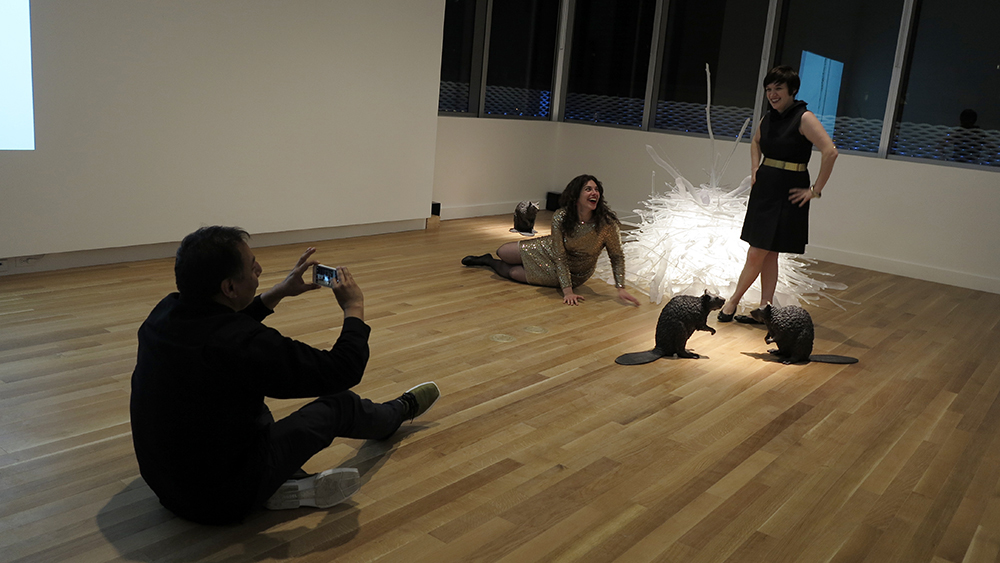 IMAGE: Artist Michael Belmore photographing artist Anna Williams (left) in front of her work Canada House at Ottawa Art Gallery.