CLIENT AWARD: Rosalie Favell receives Ontario Arts Foundation's Career Achievement Award
Congratulations to my client Rosalie Favell on her recent award! It was a pleasure to be present for the Ontario Arts Foundation's bestowal of the Paul de Hueck and Normal Walford Career Achievement Award for Art Photography to Rosalie at the Entangled Gaze Conference hosted by the Art Gallery of Ontario (AGO). After her conversation with fellow Every.Now. Then: Reframing Nationhood artist, Barry Ace, and AGO's newly appointed Curator of Indigenous Art, Wanda Nanibush, Rosalie was presented with the $30,000 prize.
From the Ontario Arts Foundation: 
Favell was selected by a jury comprising Lise Beaudry, photographer (Toronto,ON); Scott Benesiinaabandan, photographer (Montreal, QC), and Michelle Jacques curator (Victoria, BC). The jury was unanimous in their praise of Favell, stating "Rosalie creates compelling and beautiful works of art. She offers counter-stories that write Indigenous peoples into visual culture – perhaps in reaction to their absence in mainstream culture. Rosalie's strength is evident in her generousity towards her students and community, which has created an important impact on the next generation of artists."
Beyond photography, Rosalie is now exploring the merging of her photographic documentation with the medium of paint. Her paintings, as pictured below, are part of the Every. Now. Then: Reframing Nationhood exhibition on now until December 10 at the AGO.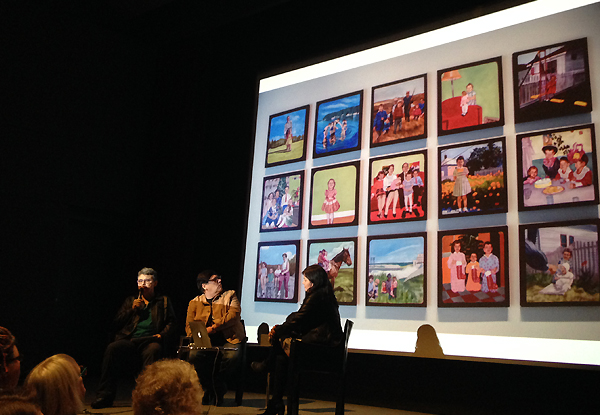 Rosalie Favell in conversation with Barry Ace and Wanda Nanibush at the Entangled Gaze Conference hosted by the Art Gallery of Ontario.
Above images: Leah Snyder.