CLIENT PROJECT: Wrapped in Culture in Ottawa
If you are in Ottawa, the next three weeks my client Rosalie Favell will be heading up a project in collaboration with Indigenous artists from both Canada and Australia. Local artists include my client Barry Ace along with fellow Ottawa based artist Meryl McMaster. Also, participating from Canada is artist Adrian Stimson. Along with these four artists, three artists from Australia will be working collaboratively to create traditional coats.
OPENING RECEPTION TODAY!

Where: Ottawa City Hall, 2nd Floor in Councillors Lounge
When: Monday, November 6, 2017 from 11 am – 1 pm.
The reception is FREE and open to the public. Lunch will be provided by the always delicious Wawatay Catering!
From Wrapped in Culture: 
A powerful reclamation project grounded in community engagement…

…The artists will be creating/reviving the art practice of the traditional buffalo robe (Canada Parries) and possum skin cloak (Australia). The project unfolds over three-weeks through a series of workshops and presents itself as an extended performance art project, which openly invites public participation from the Ottawa community.
WORKSHOPS:
The workshops are FREE and open to everyone!
November / Novembre 6th- 10th
Ottawa City Hall / Hôtel de ville d'Ottawa
Councilor's Lounge, 2nd Floor
Salon du conseiller, 2e étage.
November / Novembre 15th – 23rd
Carlton University Art Gallery (CUAG)
Galerie d'art de l'université Carlton
St Patrick's Building, 1125 Colonel By Drive.
ARTIST TALKS:
Nov. 8th 1:00-3:00pm, Ottawa U, Morriset Library, Rm 248,
Nov. 13th 6:00-8:00pm, Wabano Center for Aboriginal Heath,
Nov. 20th 6:00pm, Carleton University Art Gallery (CUAG).
Artists from Australia:
Maree Clarke (Mutti Mutti, Yorta Yorta, BoonWurrung)
Vicki West (Tasmanian)
Mitch Mahoney (Barkindji, Yorta Yorta, and BoonWurrung)
Artists from Canada:
Rosalie Favell (Metis)
Barry Ace (Anishinaabe [Odawa])
Meryl McMaster (Cree)
Adrian Stimson (Siksika [Blackfoot])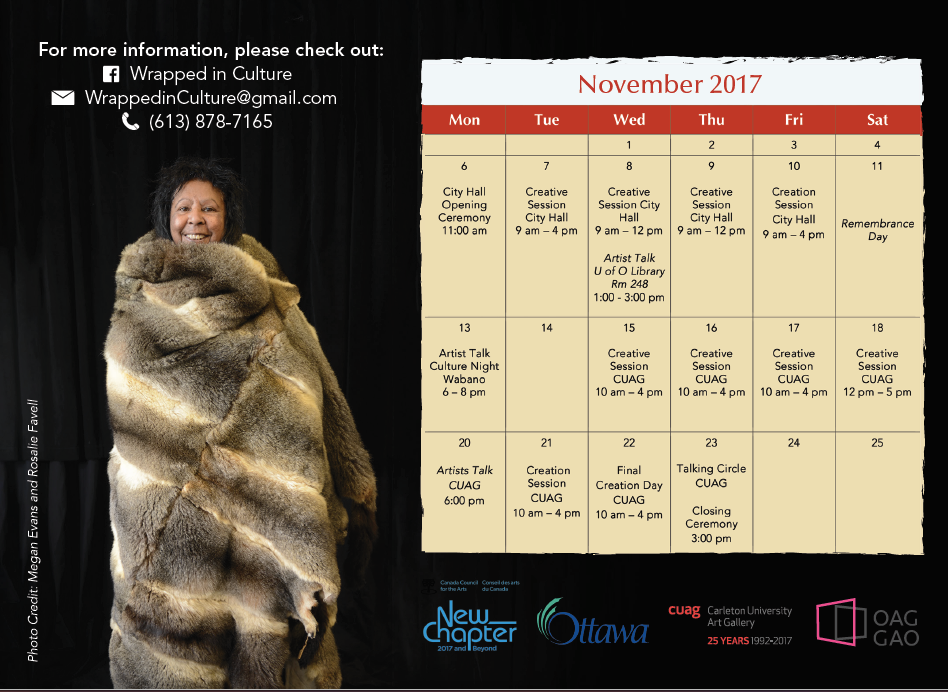 ---