FEATURED MAGAZINE: Ottawa's National Gallery of Canada & Carleton University Art Gallery showcased in Border Crossings
For those of us living in Ottawa during the lead up to 2017, Canada's Sesquicentennial anniversary of Confederation, with so much local activity it was hard not to get overwhelmed with culture desiring a well earned break from it all. With funding needing to be secured, loans set into motion and artists commissioned, the Ottawa arts community was already losing steam from 18 months of prep time and as 2017 drew to a close the community was collectively culturally fatigued. As they say, too much of a good thing…
But on this winter afternoon, now that the hype is a distant summer memory, it's been nice to break open Border Crossings to reflect on the exhibitions from Ottawa art institutions, the National Gallery of Canada (NGC) and the Carleton University Art Gallery (CUAG), and recall the winds of change that blew through each opening.
At the entrance to the Canadian and Indigenous Art: From time Immemorial to 1967, the approach to inclusion of work by Indigenous artists that will be taken throughout is establish, and two main points are reinforced: one, that there is a clear traditional link or continuity between contemporary Indigenous artists and the Indigenous artists who have been practicing their art in this land for at least five millennia; and, two, there was a disruption in that continuity after the arrival of European colonists in the 17th and 18th centuries. The clearest representation of these two ideas is expressed in the painting / sculptural installation by Luke Parnell, A Brief History of Northwest Coast Design, 2007. Parnell's work comprises a series of 11 wooden planks that feature a formline design that would be continuous if it were not for the gaps between the planks. Reading the image from left to right offers an encapsulation of a turbulent history and registers the negative impact of colonization on First Nations in Canada. (from The Many-Sided Story)
Ottawa based curator and art writer Michael Davidge's review of the rehanging of the NGC's Canadian and Indigenous Galleries, The Many-Sided Story, brings the reader along on the critical path of the NGC's institutional decision-making around Indigenous art or, at times, lack of decision-making. Integrating Métis artist David Garneau's concept of "conciliation," as articulated in David's provocative essay "Imaginary Spaces of Conciliation and Reconciliation," Michael puts it out there for the reader to question what framework, at this important cultural moment, Canada might be operating from.
"…Garneau takes issue with the use of the term "Reconciliation," suggesting that there never was a previously harmonious relationship between settlers and First Nations that can be re-established. He proposes using "Conciliation" instead, which recognizes the sovereignty of two different parties engaged in negotiation, and that in this negotiation, there will be elements of irreconcilable difference. For Garneau, it is not the open conflict between oppressed and oppressor that is the site of primary resistance, but rather the refusal of complete engagement, the refusal of translation and full  explanation. Although a wall label offers a description of Garneau's painting and its contents, there is little else that draws attention to this intervention, and much that is left unsaid about it. Moments like this might be the most productive in terms of the new installation, as they raise questions for the viewer about what is included and what is excludeed from the official narratives, prompting a closer and more critical look.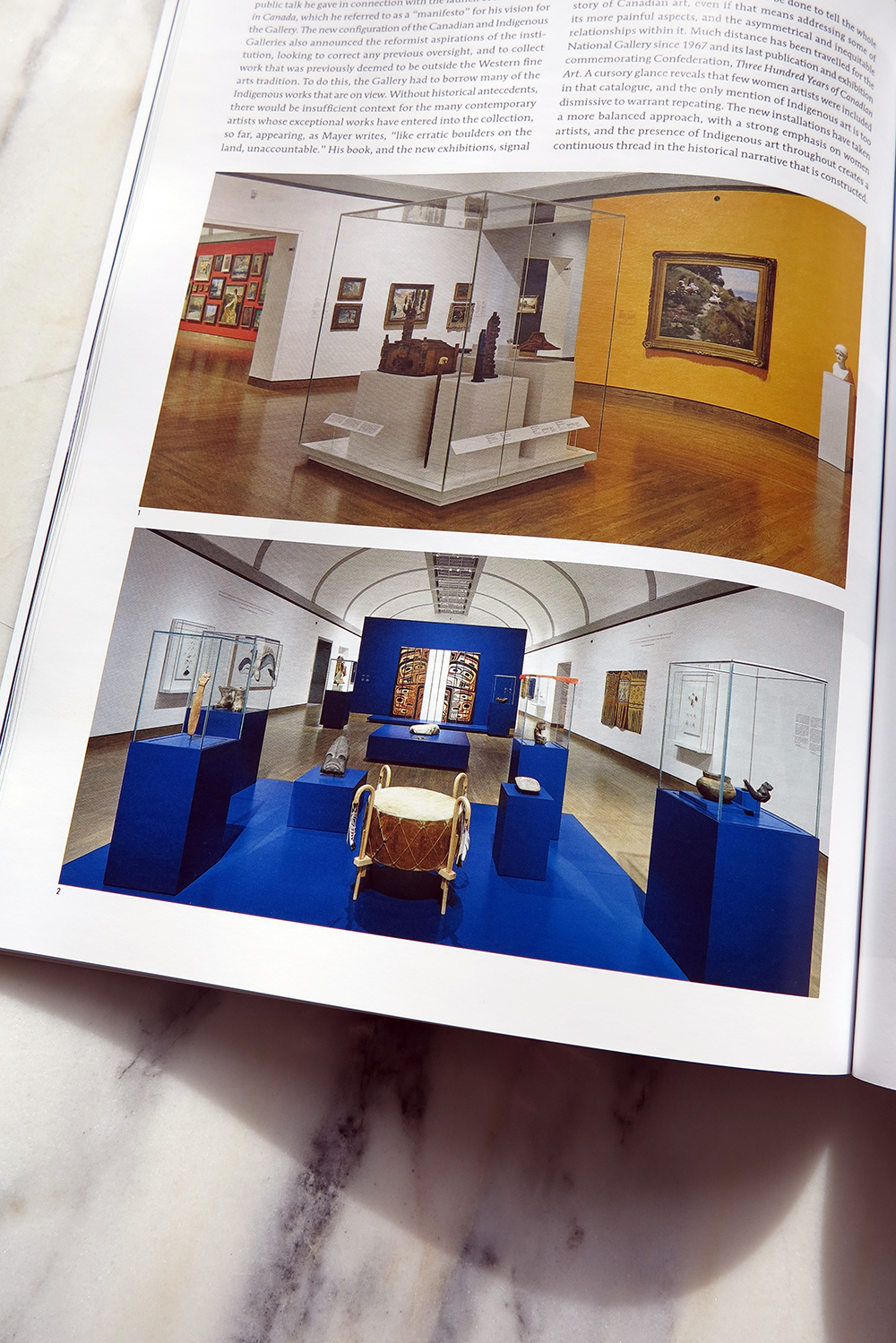 (CLICK ON THUMBS TO ENLARGE. IMAGES: LEAH SNYDER)
Shortly before the NGC's June 15 unveiling of the newly re-installed and renamed Canadian and Indigenous Galleries, CUAG's exhibition Open Edition welcomed the perfect reason to celebrate the history of printmaking in Canada's 150th year by celebrating CUAG's 30th year with an exhibition on the tradition of printmaking in Canada. Co-curated by CUAG's director Sandra Dyck and CUAG's curator Heather Anderson the exhibition filled both levels of the gallery with over-sized as well as diminutive prints. Everywhere you turned there were stunning examples of printmaking drawn from CUAG's own collection as well as newly commissioned work by contemporary artists.
A floor-to-ceiling wall treatment by Ciara Phillips greets us with a brash and bold explosion of colour – chunky blocks of cobalt blue, emerald green and black and white checkerboards are stamped monolithically up the double-height atrium, making suitable use of this idiosyncratic  entryway. (From BorderCrossings)
NGC curator and writer Rhiannon Vogl's review of Open Edition describes for the reader so many of those stunning pieces as well as the intriguing installation of Ottawa based Mexican-Canadian artist Guillermo Trejo's commission A Gallery Reconfigured, 2017.
…Trejo has developed a four-sided filing cabinet of curiosities that anchors this lower level. It contains a rigorously researched selection of historical French prints, which he has categorized and overlaid with specific aperture windows within its drawers, awaiting animation by the visitor's hand. Responding to the practical impossibility of accessing or presenting many artworks in a gallery's large permanent collection, this sculptural piece belies the curatorial project at work here, as, in fact, Anderson and Dyck have populated the walls surrounding these four artists works with a provocative selection of two-dimensional works culled from their storage units.
Both Michael and Rhiannon's reviews reiterate why I continue to promote the fact that Ottawa is an incredible epicenter for the arts. This city provides an important location for engaging and critiquing how institutional collections have the capacity to change the script. Despite being exhausted by year end, there was no place I would have rather been for this pivotal moment in Canada history.
To purchase the magazine visit www.bordercrossingmag.com for Issue 144.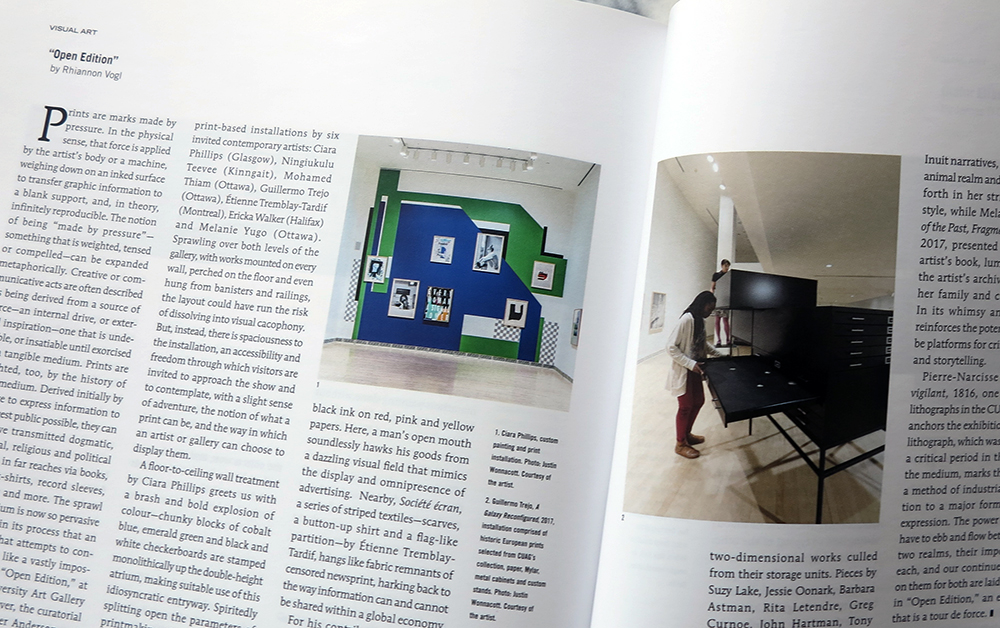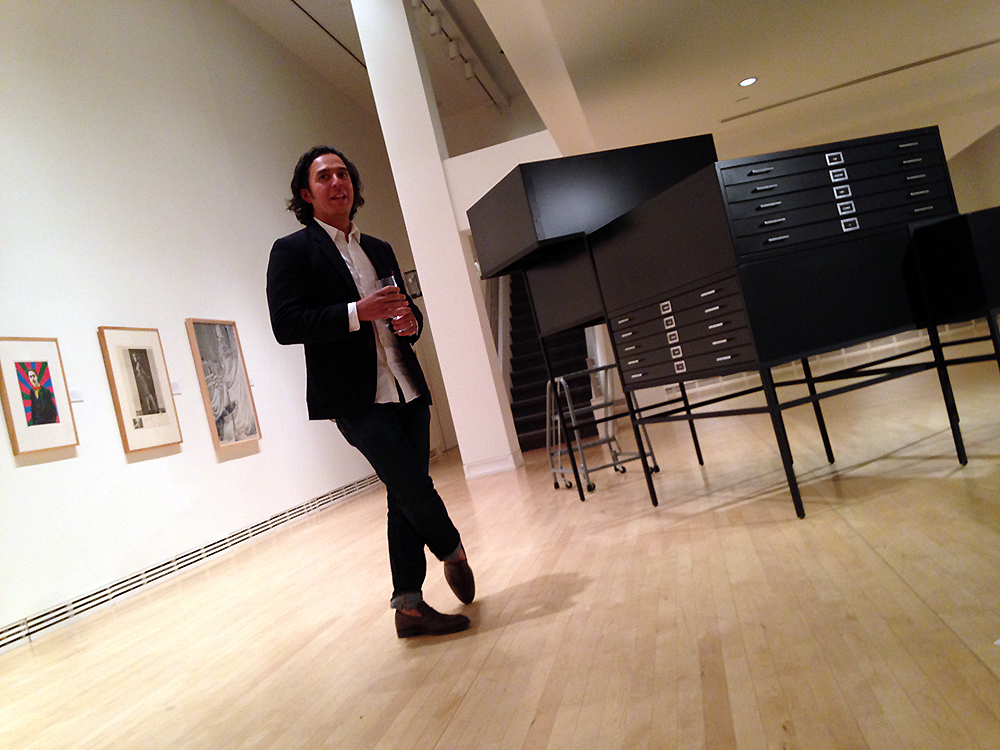 IMAGE: Guillermo Trejo in front of his installation at CUAG by Leah Snyder. 
(CLICK ON THUMBS TO ENLARGE. IMAGES: LEAH SNYDER)