CLIENT OPENING: Jeff Thomas' "Birdman Rising: Conversations Beyond Colonialism" at University of Southern Illinois, Edwardsville
Jeff Thomas' current solo exhibition Birdman Rising: Conversations Beyond Colonialism builds on his work around the Mounds at Cahokia and his investigation of the Mississippian culture.
"Here in the shadow of Cahokia Mounds, the center of the Mississippian urban complex and trade network, Mr. Thomas brings fresh and different vision to precolonial North America. The dual voices in this exhibit, the indigenous artist and the anthropologist, raise questions and open up space for viewers to explore their own ideas." (read more…)
Click on anchor points to view corresponding panel and title. You can move the map around by clicking and dragging. View a larger version of the map by clicking on the [  ] brackets on the top right of the map.
Jeff has had an ongoing working relationship with the Native American Studies program at the Museum of Southern Illinois University Edwardsville and the Edwardsville Art Center. The resulting portfolio of his new work that include his roadtrips down to Illinois in search of the Birdman can be viewed on his website.
The exhibition opened this past March and continues until April 20, 2018.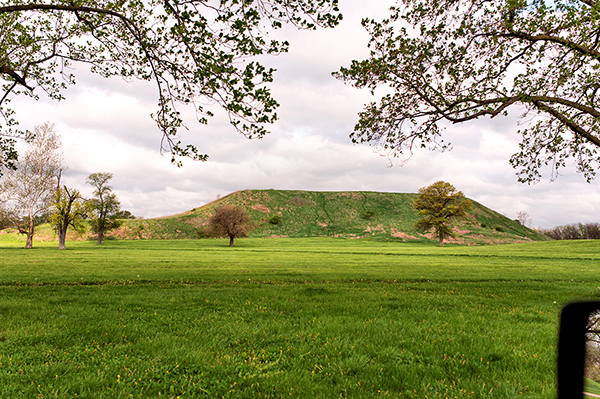 Jeff Thomas, Mississippian Homeland, Monk's Mound (2015) Collinsville, Illinois, GPS: 38.660083 -90.05875