EXHIBITION CLOSING: "Beading Now!" closes this weekend @LaGuildeMTL Montréal
The goal of this exhibition is to create a place where Indigenous and non-Indigenous artists can exchange thoughts and ideas. In order to encourage intergenerational discourse, objects from La Guilde's own collection will be an important part of this exhibition. The presented artworks will create new narratives. (read more)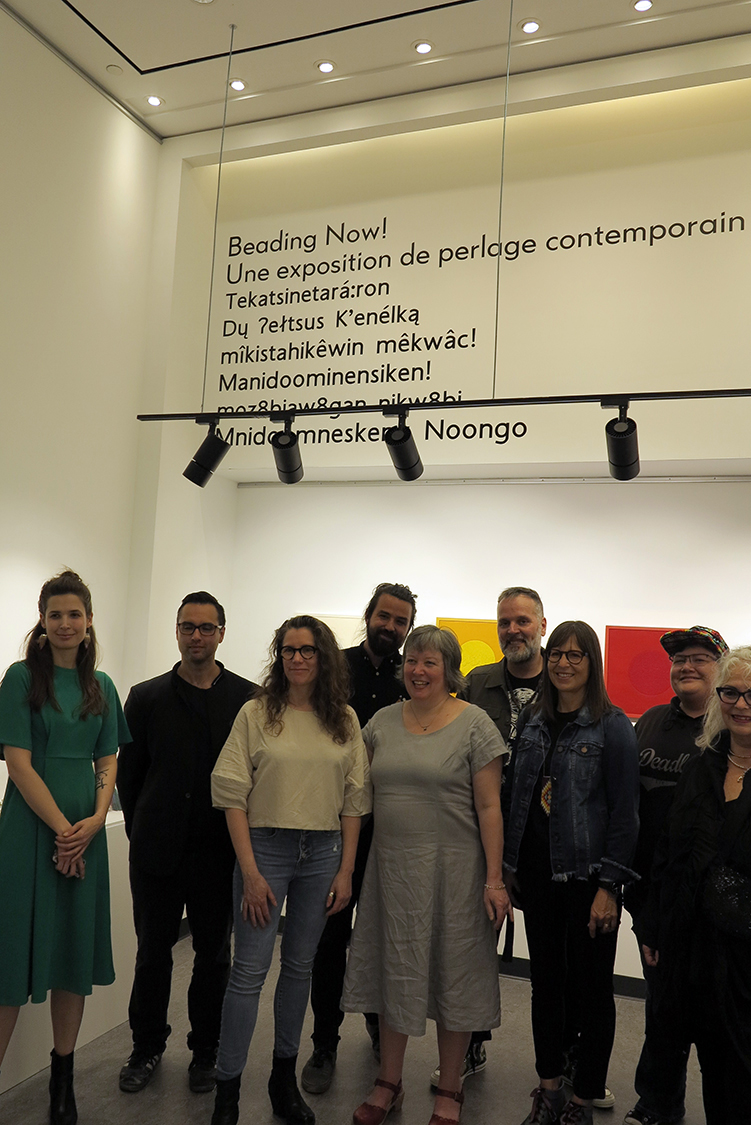 Curator Karine Gaucher (far left) with artists in attendance for the vernissage for "Beading Now!"
On May 16, 2019 artists from across Canada, who use beads as a medium for their work, gathered in Montréal for the opening of Beading Now!. The exhibition, at La Guilde, showcases a stunning display of contemporary artistic practice in beadwork including Judy Anderson's Exploit Robe (Toying Around). Created in 2012, this work on hide that I had yet to see in the flesh, was phenomenal to take in at the vernissage. As Judy shared with me, she wanted to create something "epic." It is! Based of off her son Cruz's graffiti tag, she says:
Historically, men painted narrative and figurative scenes on smoked hide robes, recording stories of incredible exploits in war, hunting, and love. Few make these robes anymore, and lives of contemporary Indigenous men are starkly different from their ancestors. However, Indigenous men continue to accomplish great things that need to be recognized and honoured. By fusing contemporary ideas with traditional media, Exploit Robe (Toying Around) is a reproduction of my son Cruz's first "burner" (a large and elaborate graffiti piece) created at age twelve, marking the beginning of his journey as a graffiti artist. As the same time, the use of the term "toy" acknowledges his inexperience and the beginning of his journey as a man.

kayâs mâna, nâpêwak ê-kî-sisopêhikêcik âcimowina pahkêkinanihk, ka-wâpahtihicik nôtinikêwin, mâciwin, êkwa sâkihitowin. namoya mihcêtwak ê-osîhtacik ôhi anohc kâ-kîsikâk, êkwa mêtoni pah-pîtos ê-isi-pimâtisicik anohc. aya, piko iyinitowi-napêwak ê-kistêyimihcik. ka-âniskwatamihk anohci-osîhtahakana êkwa kayâsi-osîhtahkana, Exploit Robe (Toying Around), ê-naspitamohk nikos Cruz nistam "burner" (misikitêw êkwa paskakiw otêna-tâpasinahikan) kî-osihcikâtêw ispih ê-kî-itâhtopiponêt nîsosap, ispih ê-kî-ati-otêno-tâpasinahikêt. ôma itwêwina "mêtawêkan" ka-ohci-mâmiskotomohk êkwâyâc ê-kî-ati-sâpohtet pimâtisiwin tâpis-kôc napêw.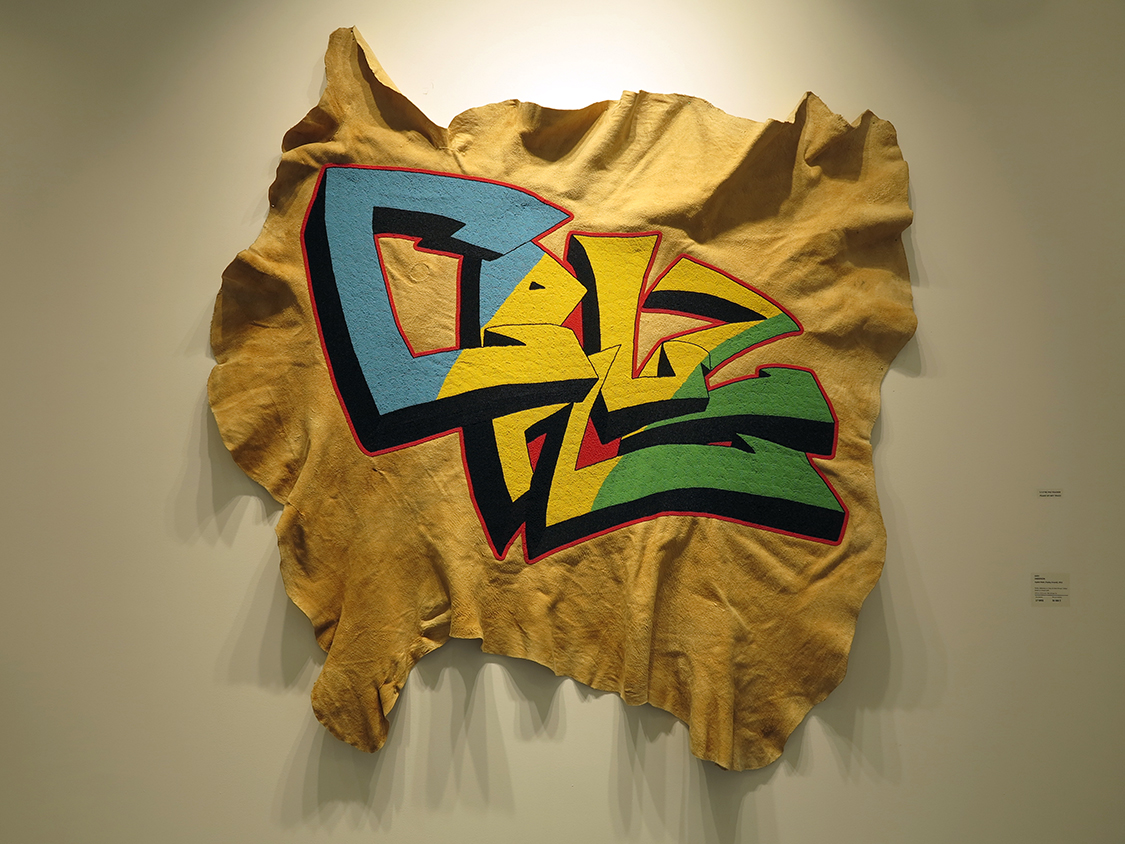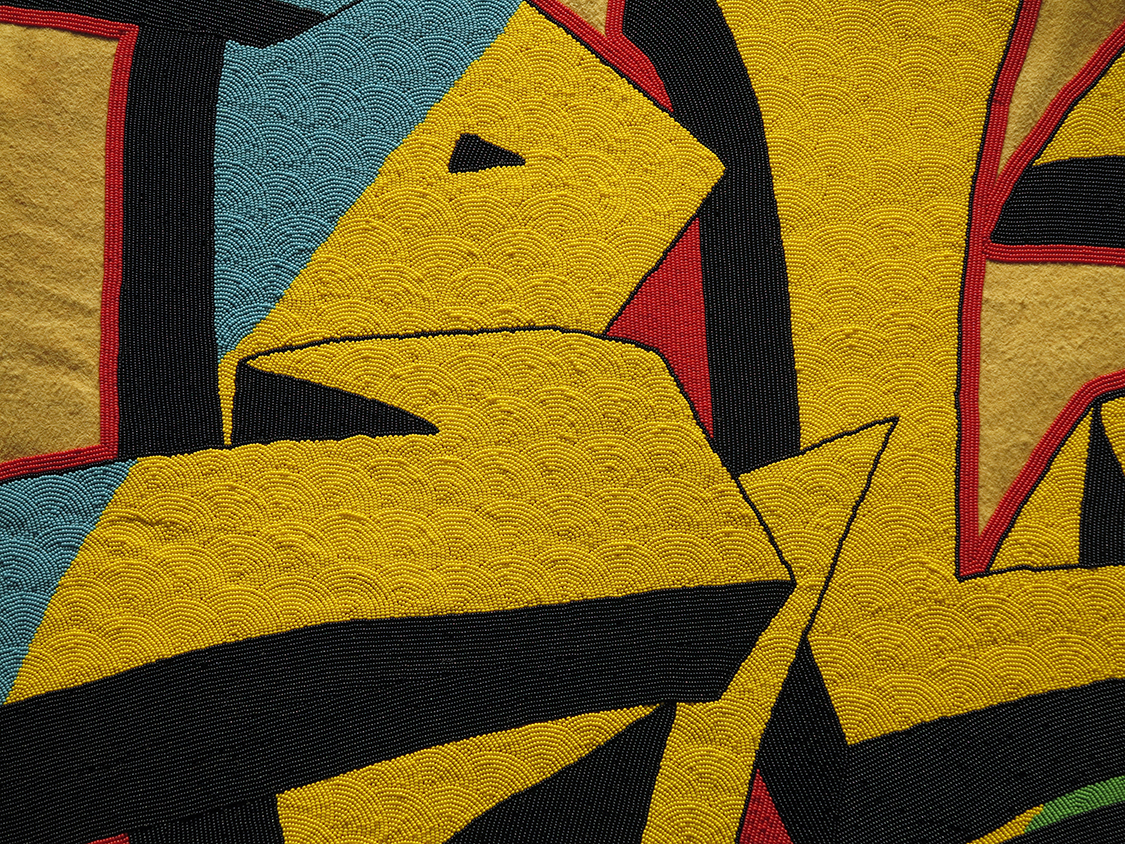 Nehiyaw (Cree) artist Judy Anderson's "Exploit Robe (Toying Around)" (2012) installation view and detail.
The exhibition also includes poignant work by Ruth Cuthand and Teresa Burrows. In Ruth's new work she builds on the subject matter presented in her body of work Trading Series where she has beaded viruses like smallpox and cholera – deceptively beautiful compositions with a chilling backstory.
Ruth Cuthand's latest installation, Extirpate this Execrable Race, continues her work to bring attention to the health impacts of colonization on Indigenous people, both past and present. The title of this installation is taken directly from correspondence that Lord Jeffery Amherst, commanding general of British forces in North America, sent to Colonel Henry Bouquet, on July 13, 1763, advocating the use of smallpox infected blankets as biological warfare. The blankets, along with a handkerchief, were given to those who came to warn the British forces of an impending attack.

Ruth Cuthand omâwaci-oskâtoskêwin, Extirpate this Execrable Race, ê-âhkami-mâmiskotahk tânisi isi ka-tâh-tipêyi-mihcik iyinitowi-iyiniwak ê-mâyi-itôtâhihcik ohci, kayâs êkwa anohc kâ-kîsikâk. ôma wîhowin ohci Lord Jeffery Amhert, ka-pimipayimâcik kahkiyaw âkayasi-nôtinikêyiwa, kâ-kânâta-askihk êkwa kihci-môhkomakanâhk, ka-masinahamawat Henry Bouquet, pâsko-pîsim 13, 1763,
ka-âpahcitahk tâpis-koc nôtinikêwin. ôki akohpa, asici tâpiskâkan, ka-miyihcik ôhi kâ-pê-nêyakoci-wîhtamawâyit, âkayasi-notinikêyiwa ôhi.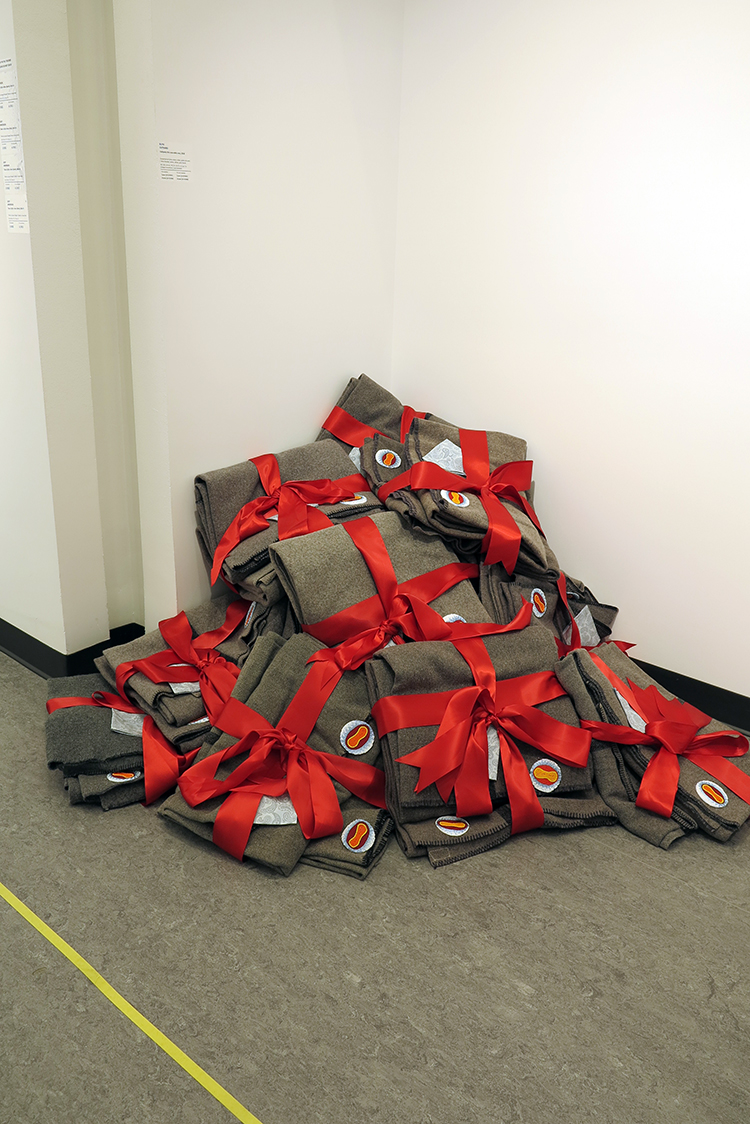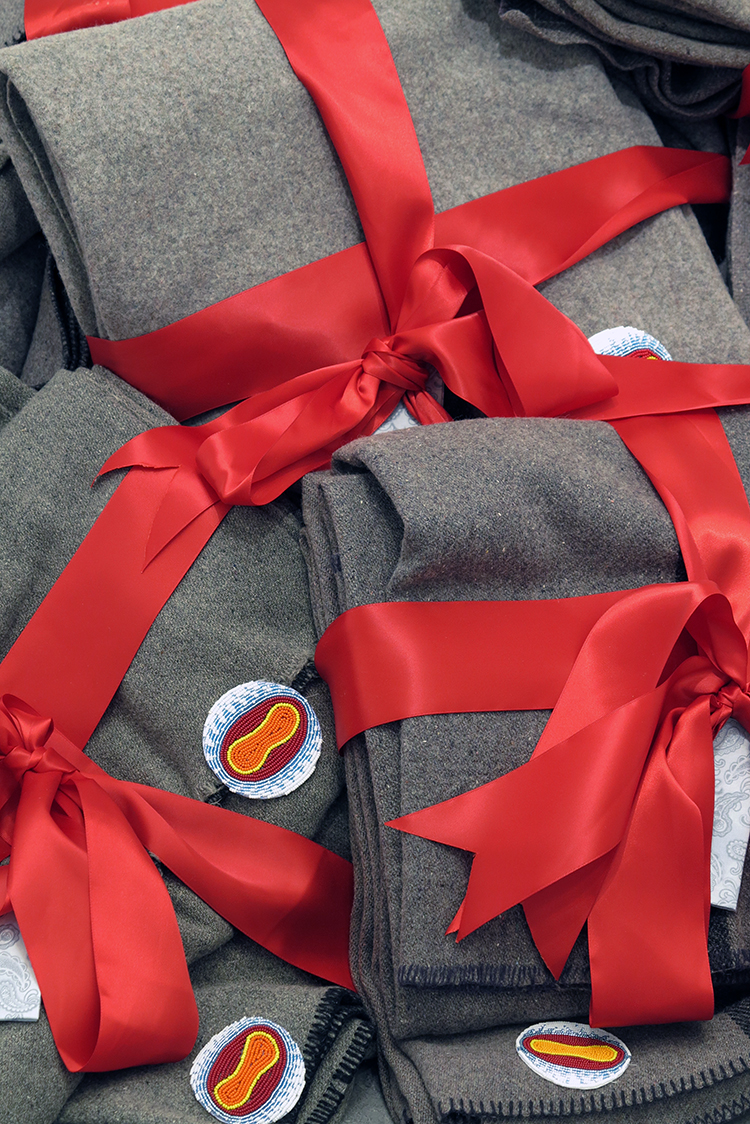 Artist Ruth Cuthand's (Plains Cree, Scottish, Irish) "Extirpate this Execrable Race" (2018) installation view and detail. 
Occupying a large area in the first viewing section of the gallery, Teresa's installation, commemorating missing and murdered Indigenous women and girls, is a haunting presence.
This powerful work deals with issues of racism, cultural appropriation, poverty, and the continuous objectification of women, even in the Me-Too era, and reflects on the system failing miserably to protect Indigenous women.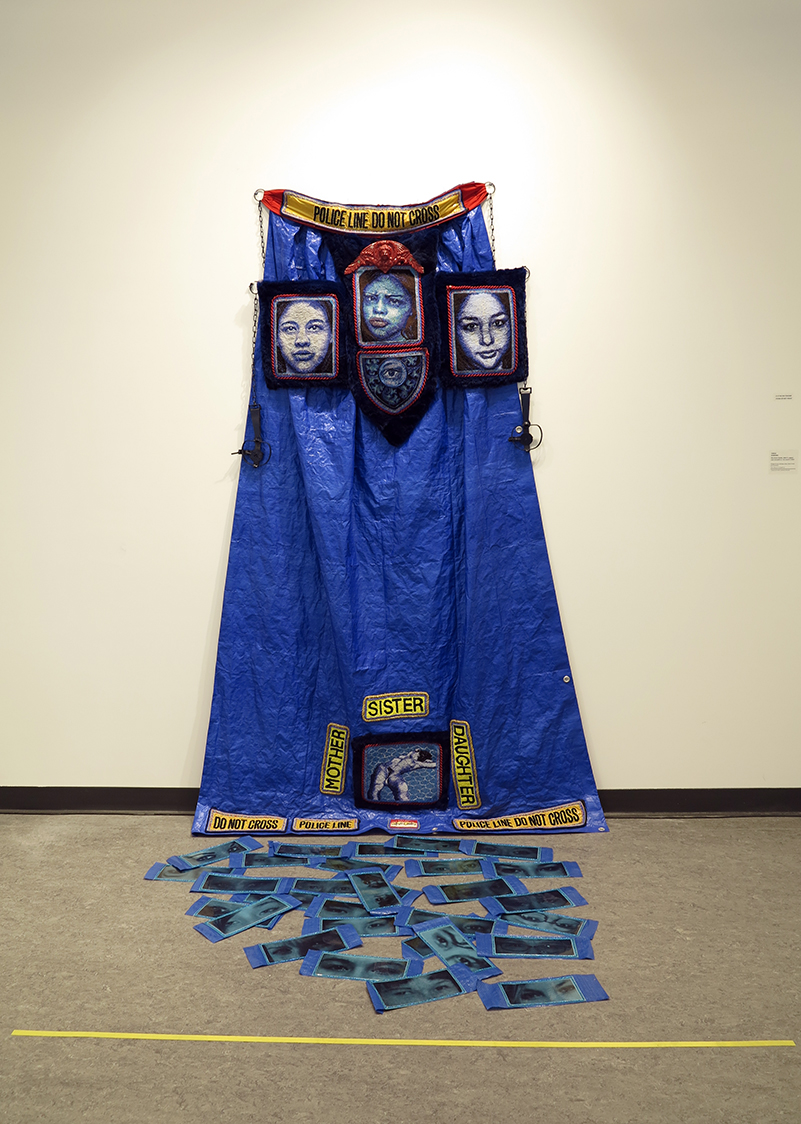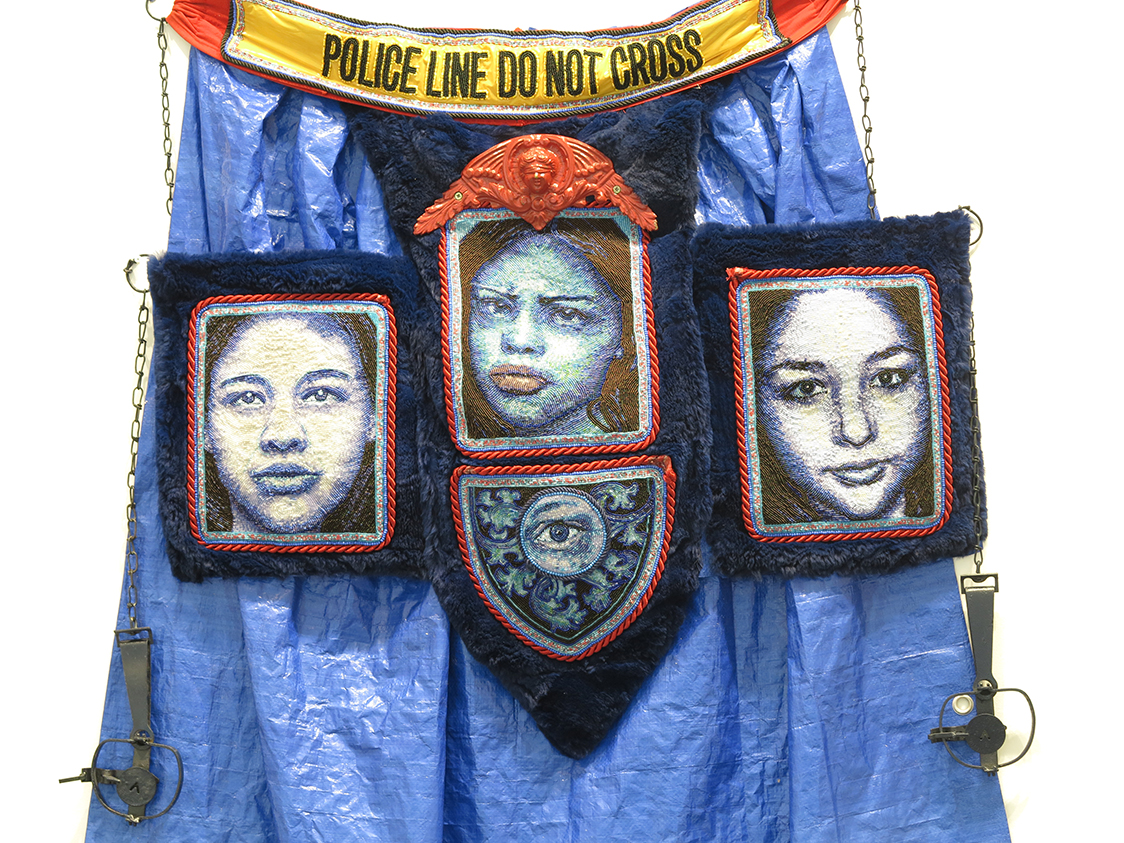 Installation view of "Blue Beaver's Burden" (2011, 2019) by artist Teresa Burrows and detail. 
I am always in awe as well as delighted by the work of Nico Williams. Set at various intervals, their tiny architectures offer graceful presence in the space.
Using bright colours and patterns, Nico Williams, through his creation of delicate beaded geometrical sculptural forms, explores stories of power, tradition, and healing from the communities of the Great Lakes area. Co-existing within these sculptures are Ojibwe oral histories, his urban life as an artist living in Montreal, his aspirations and his dreams, creating narratives that capture the beauty of a nation.

Nokaazan e'waase-aandegin niinwaa mazinkwadjganan, Nico Williams a dizhtownan mnidoominesi mazindignan, bekish ni ndakendaanan dbaajmownan ezhi mshkowendagook inaadziwin miinwa noojmownan odenwinan odi Ghci gaming nikeyaa. Dgo gaabwiimgaadoon mazinwadjiganan miinwa Ojibwe gete dbaajmigzewnan ode ednised Moon'yaang maaba exhi meskwaabndang miinwa enaamjiged waabndowen newe dbaajmownan epiichi gnaajwang eko dnokiiying.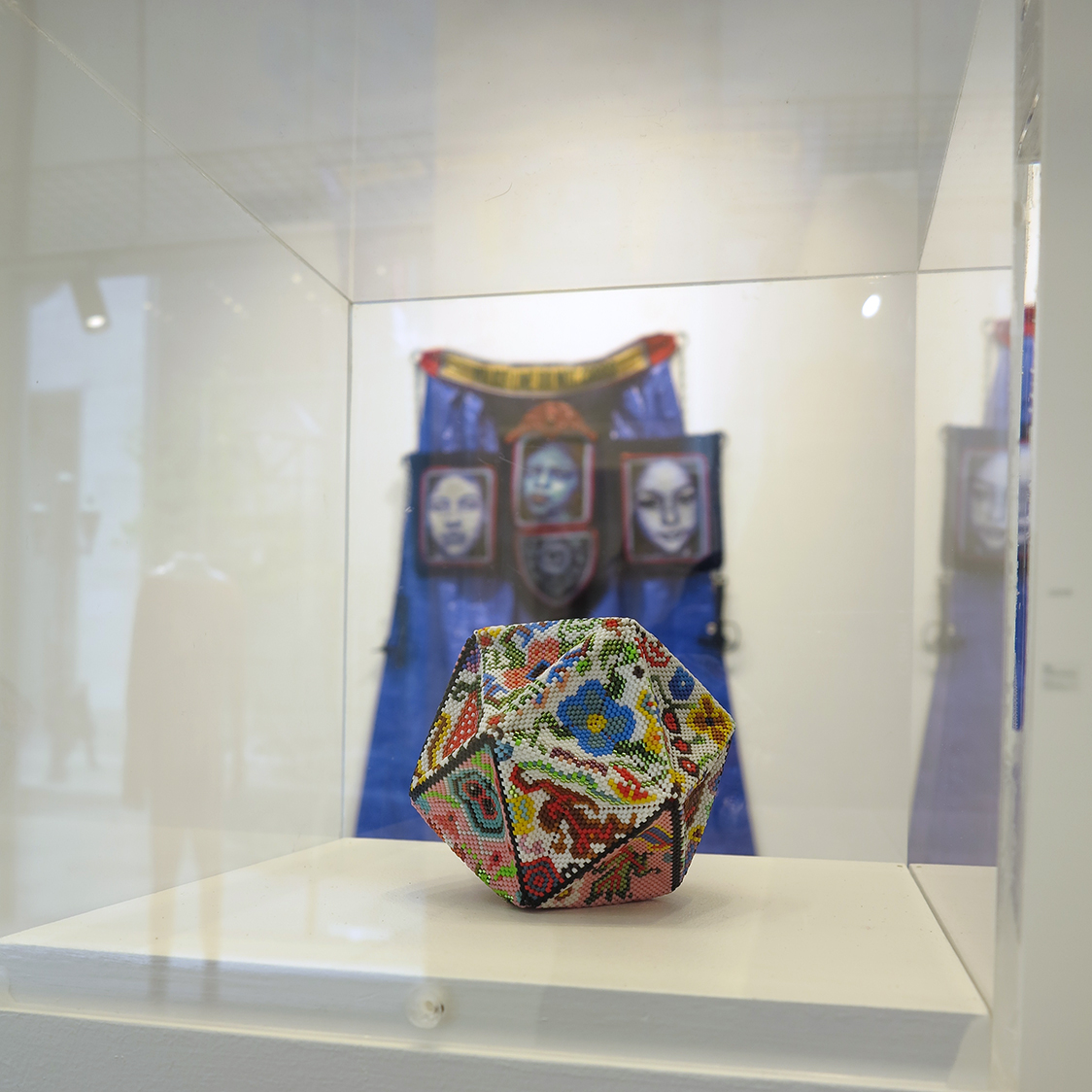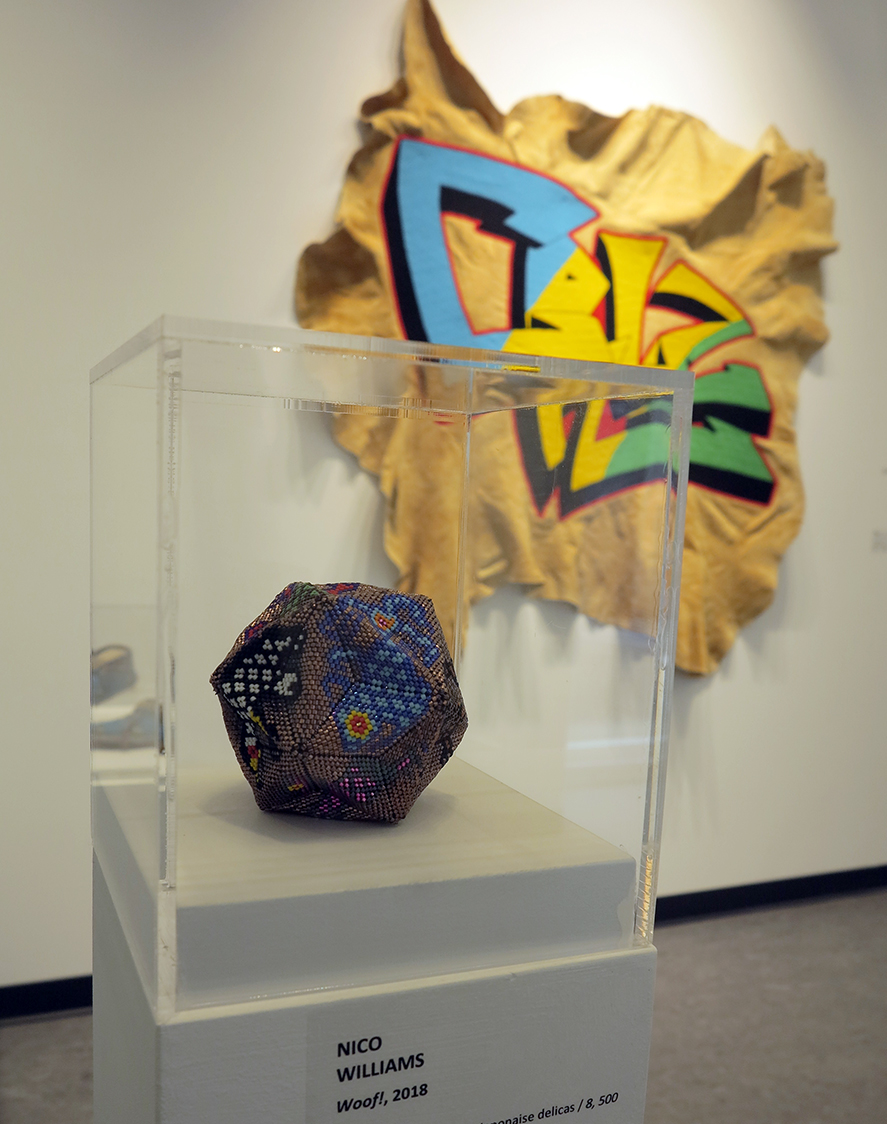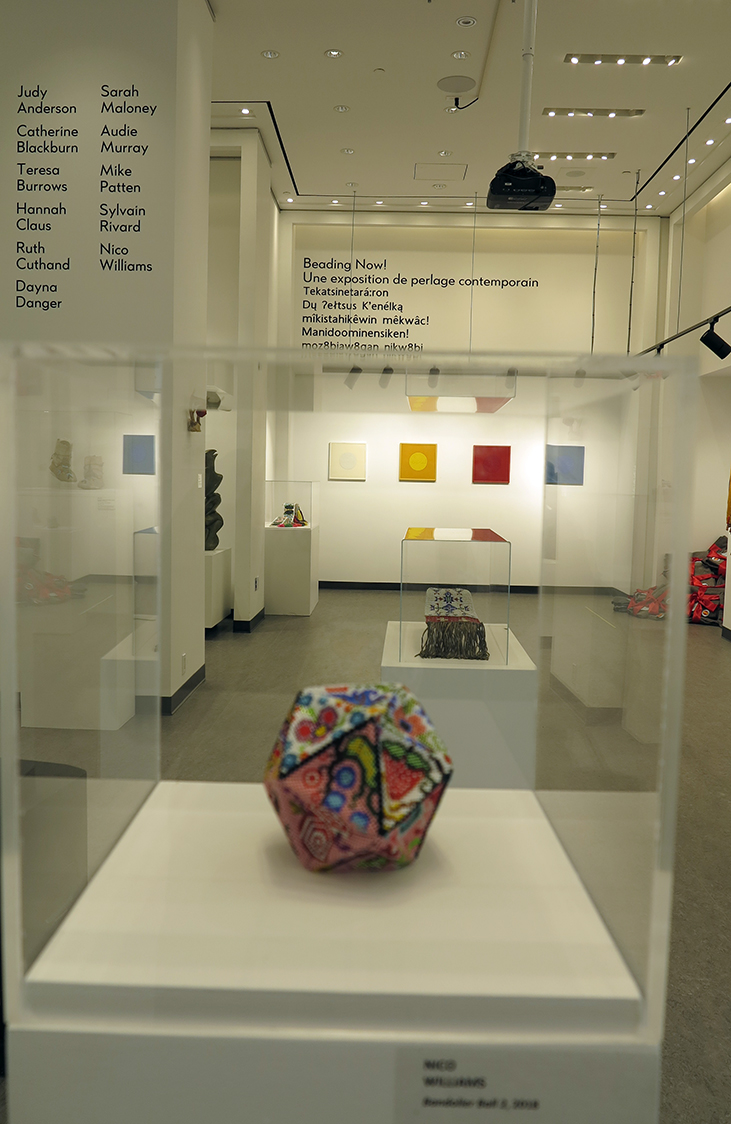 Work by Nico Williams (Ojibwe). Top to bottom:  "Bandolier Ball 2" (2018); "Woof!" (2018); "Bandolier Ball 2" again from different direction. 
The other 7 out of 11 artists included are Catherine Blackburn, Hannah Claus, Dayna Danger, Sarah Maloney, Audie Murray, Mike Patten and Sylvain Rivard, all of whom offer incredible examples of diversity in practice. Closing Sunday, July 21, this early summer exhibition will be missed!
More info on La Guilde's website. Catalogue available for purchase here.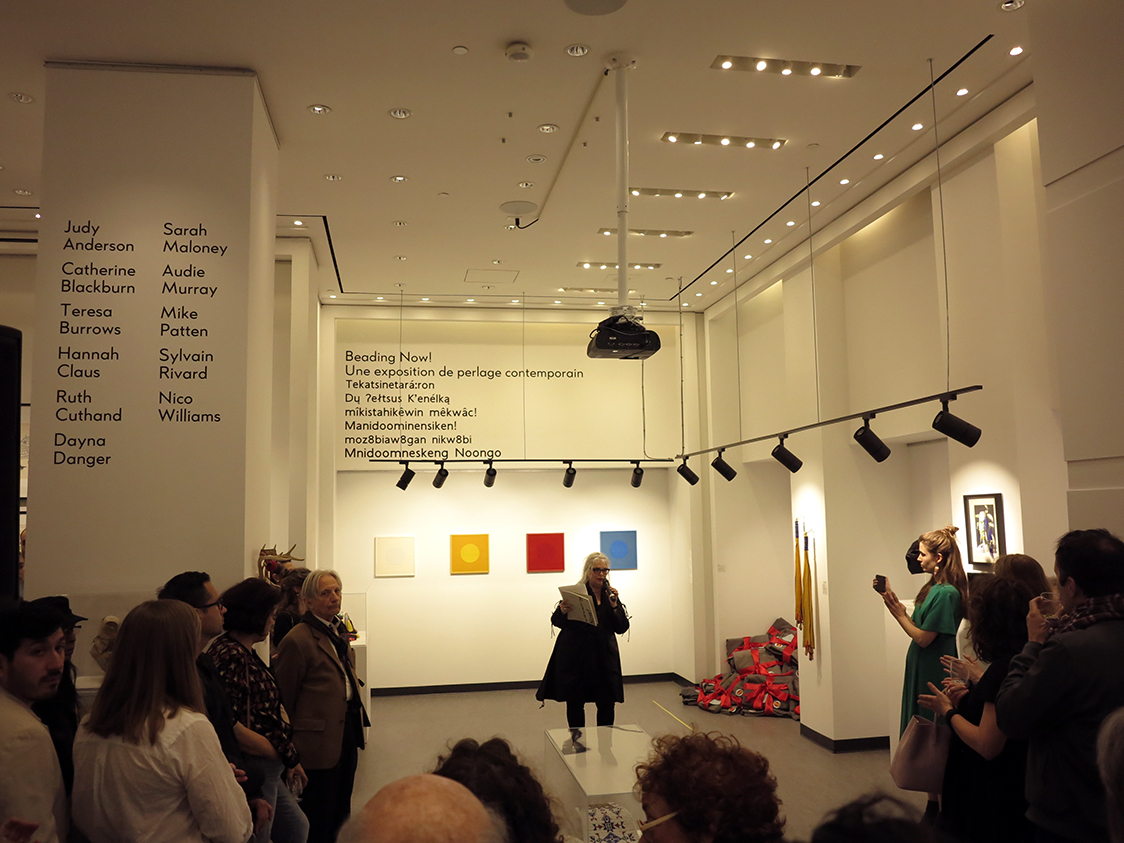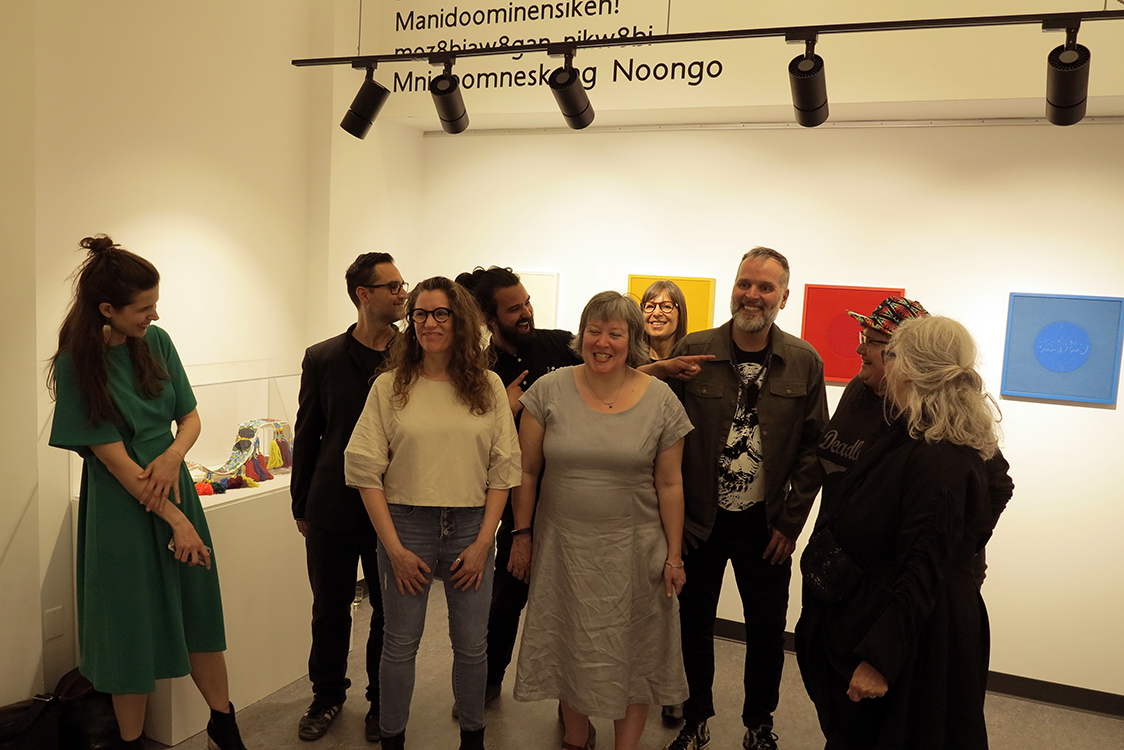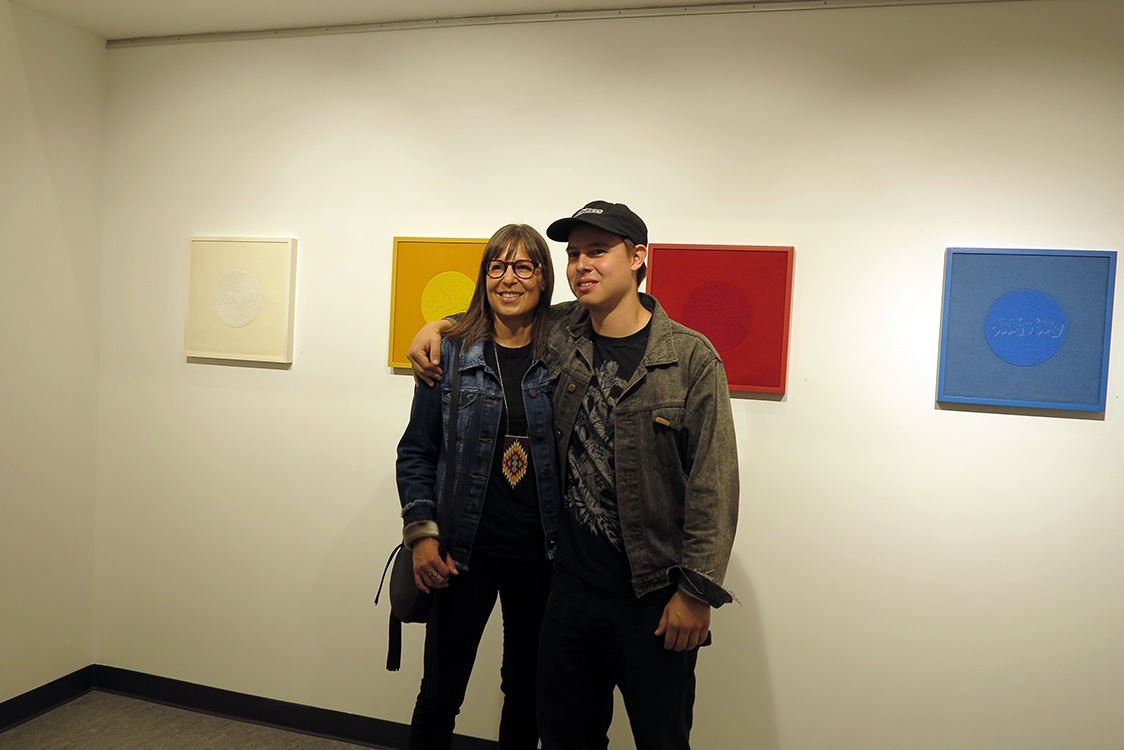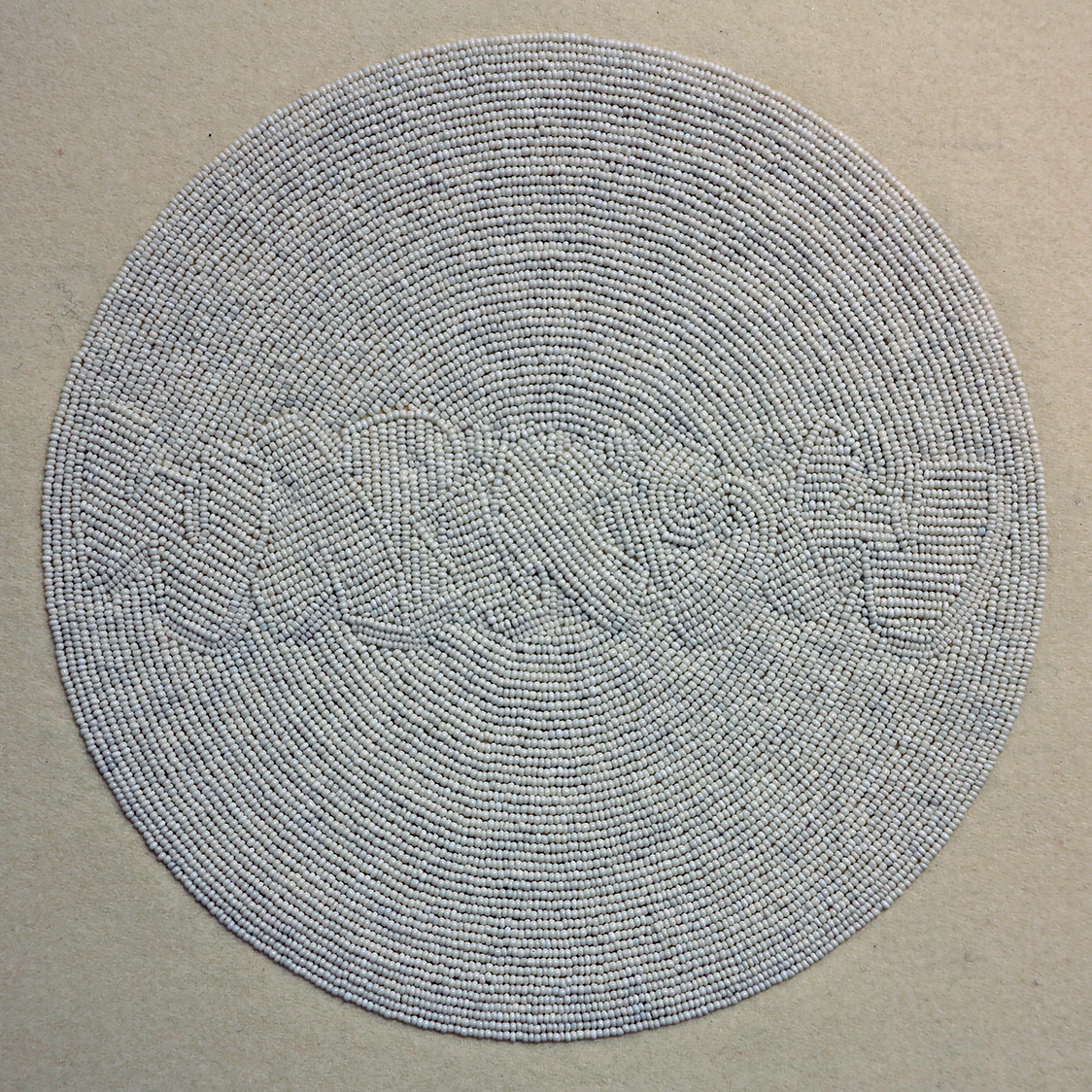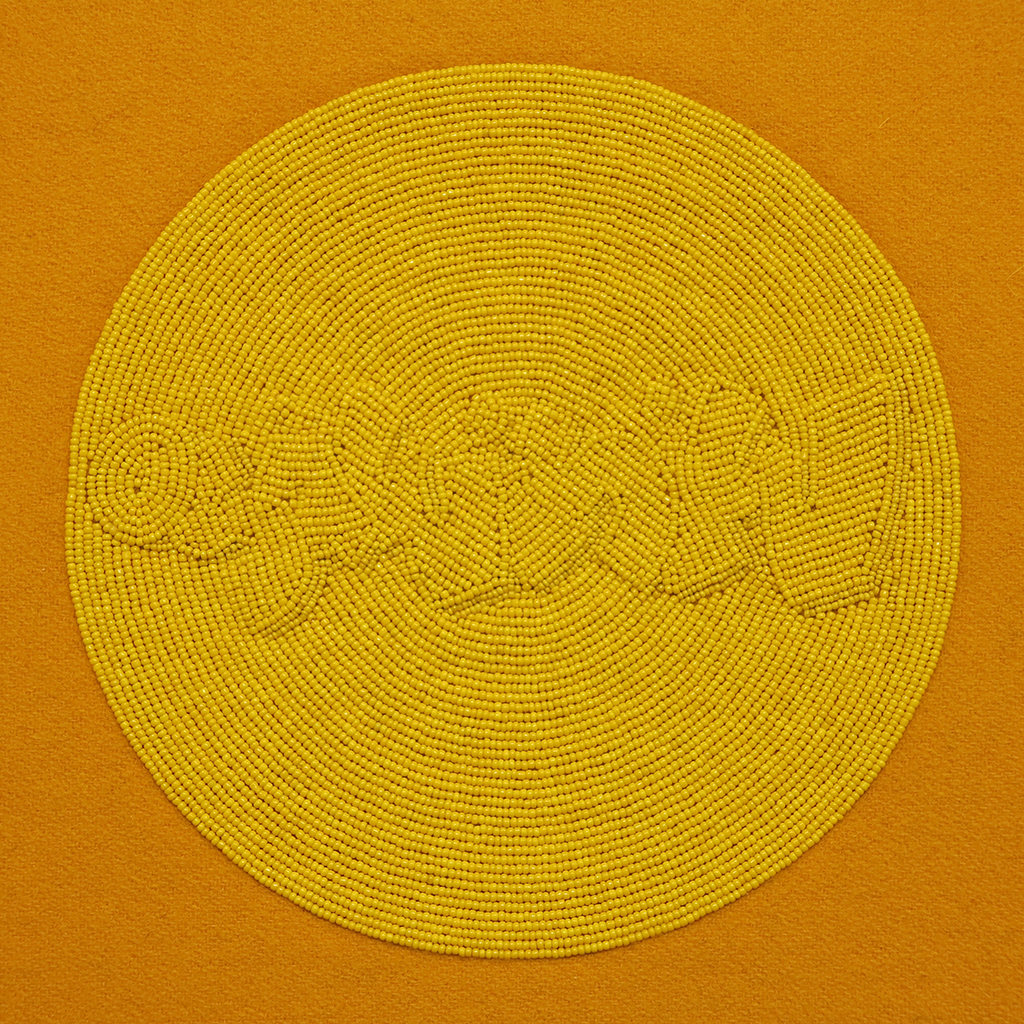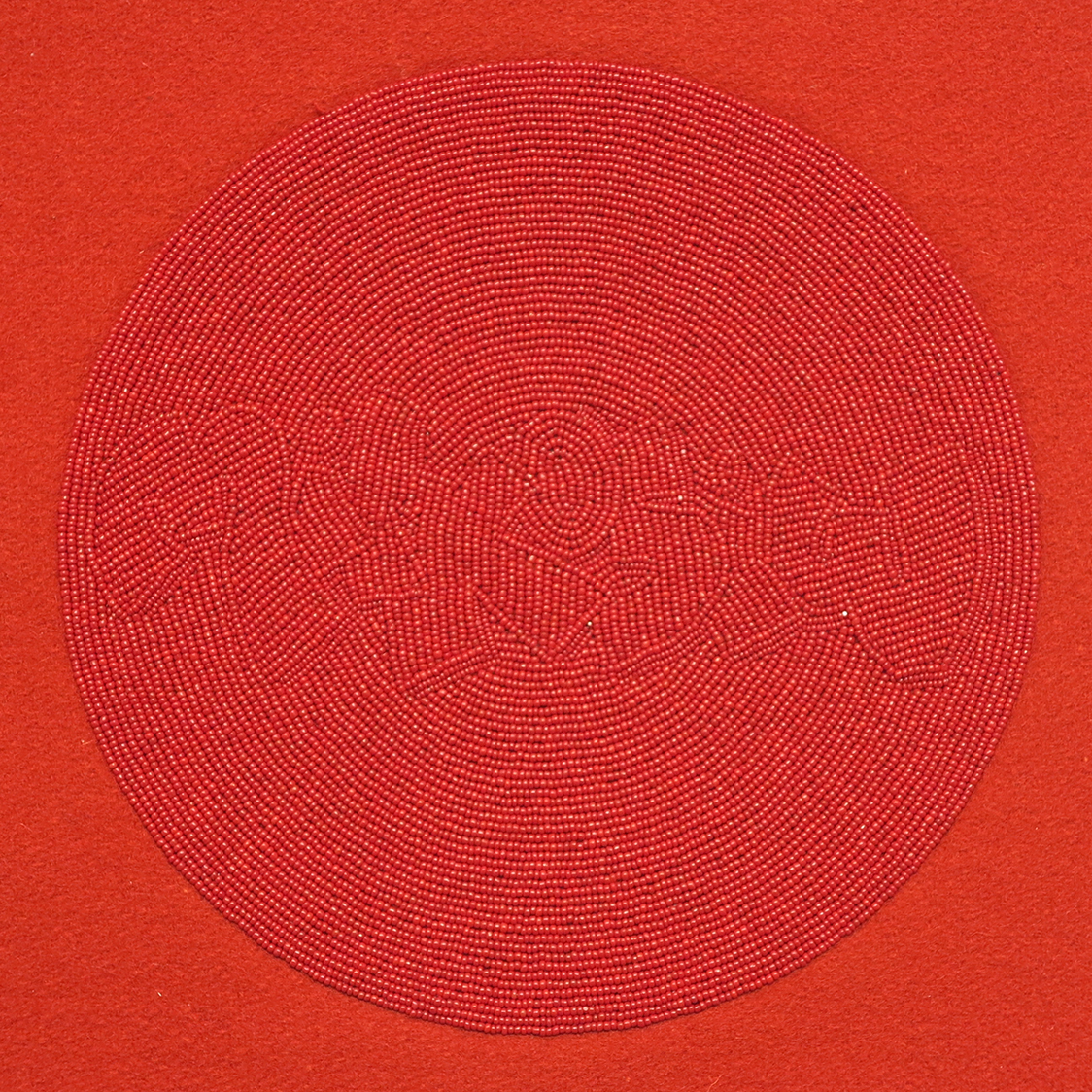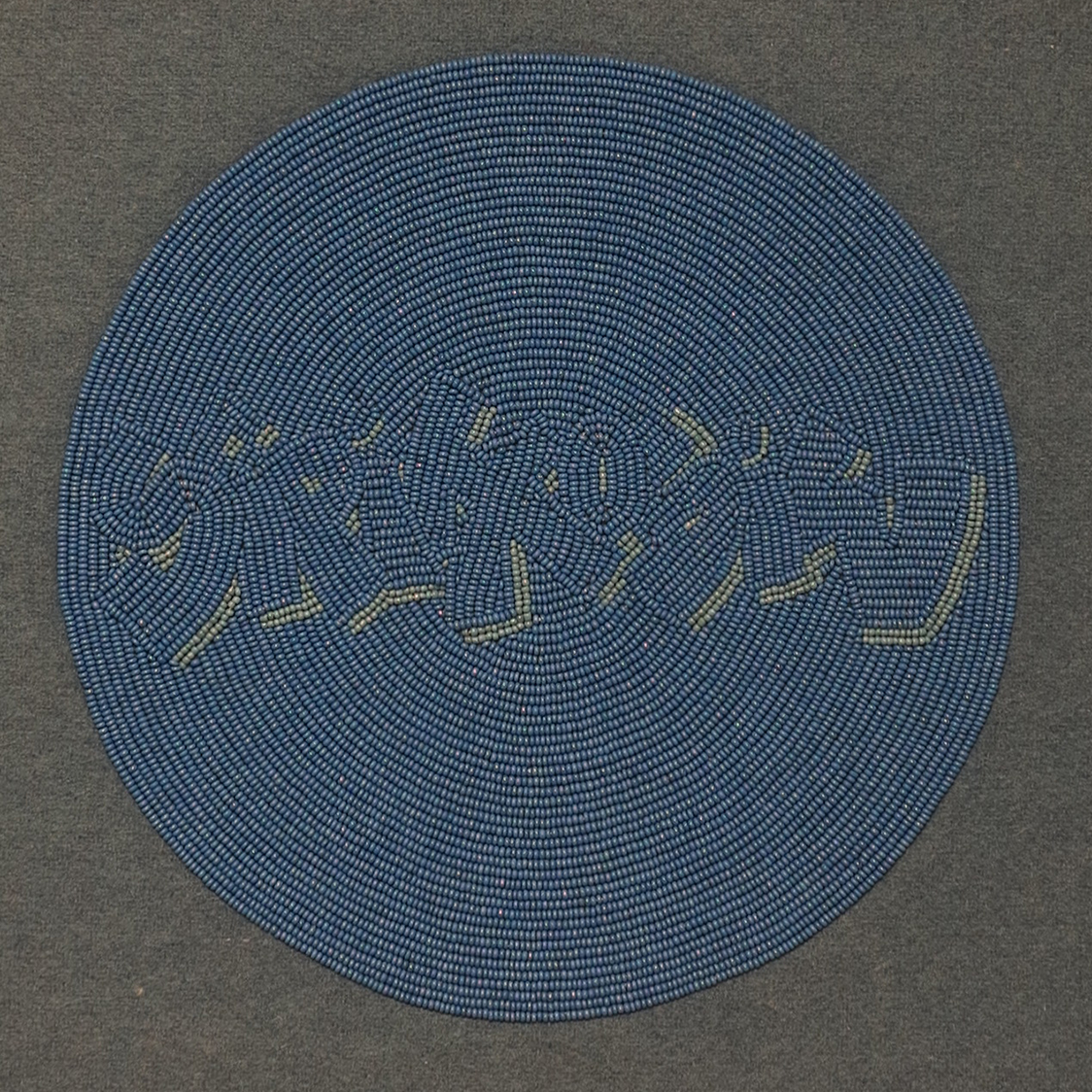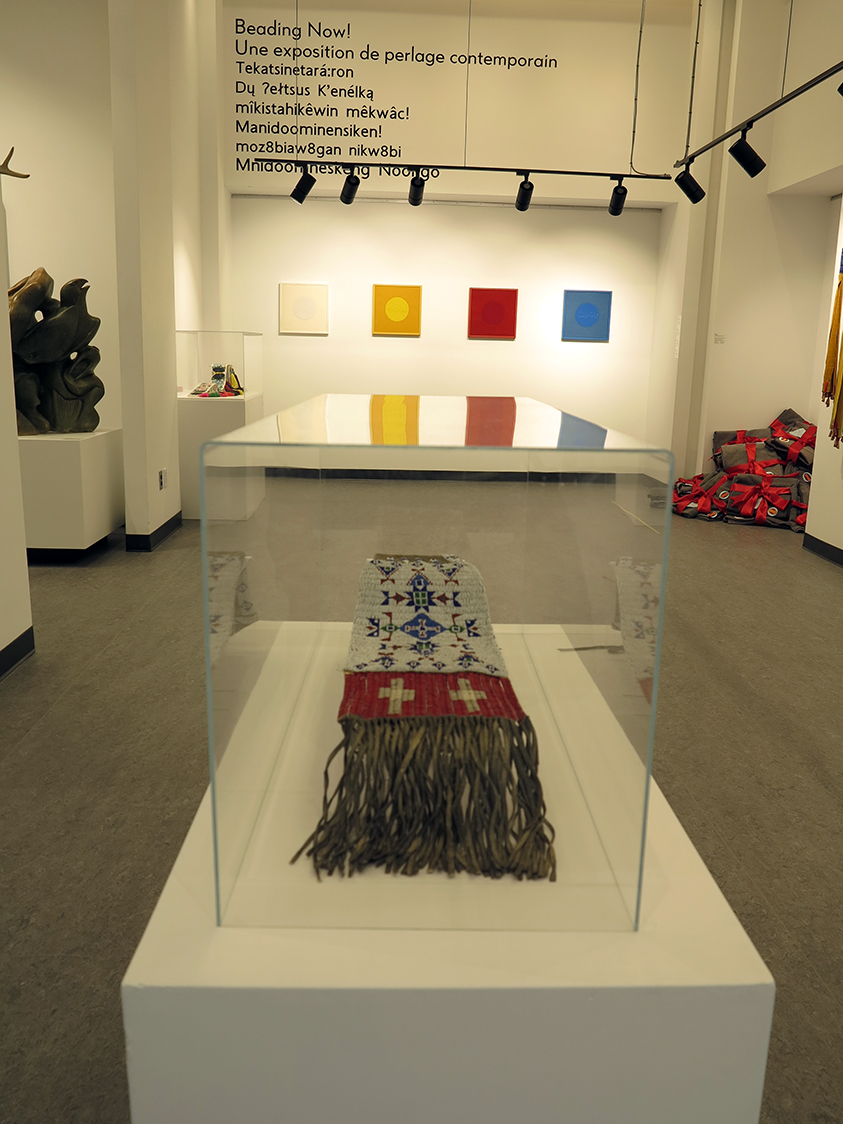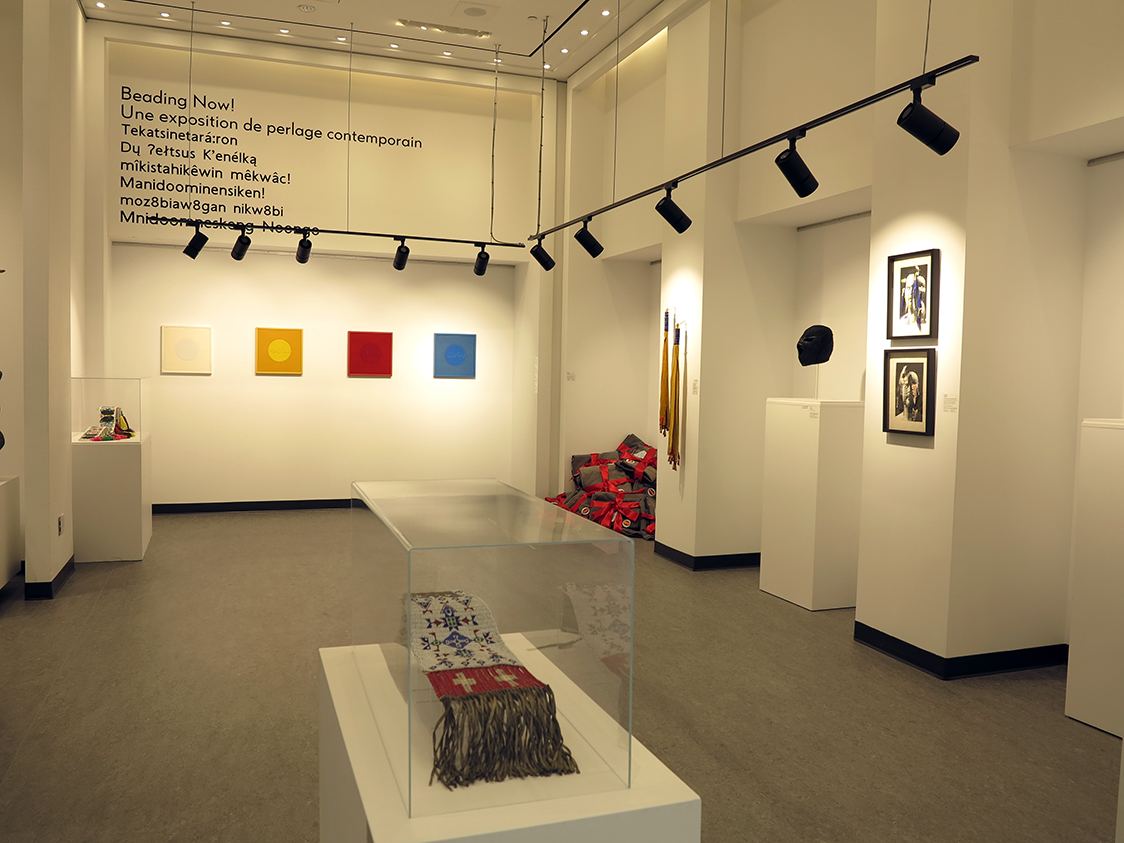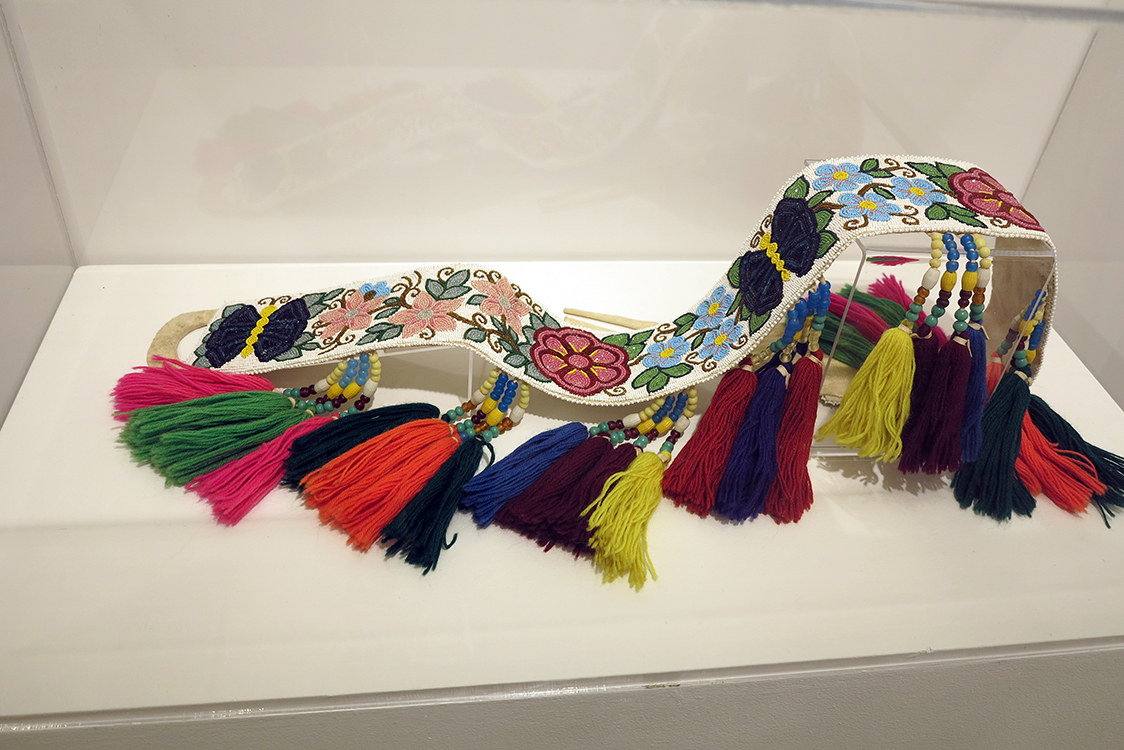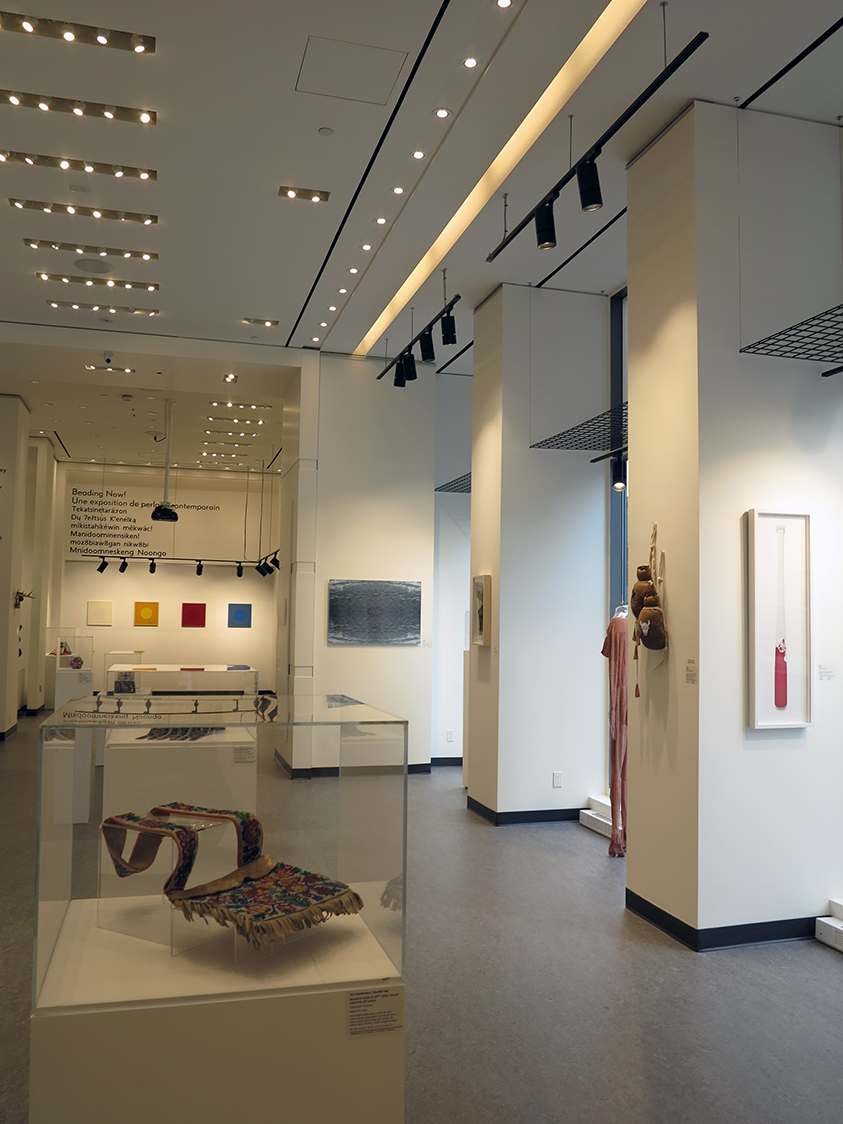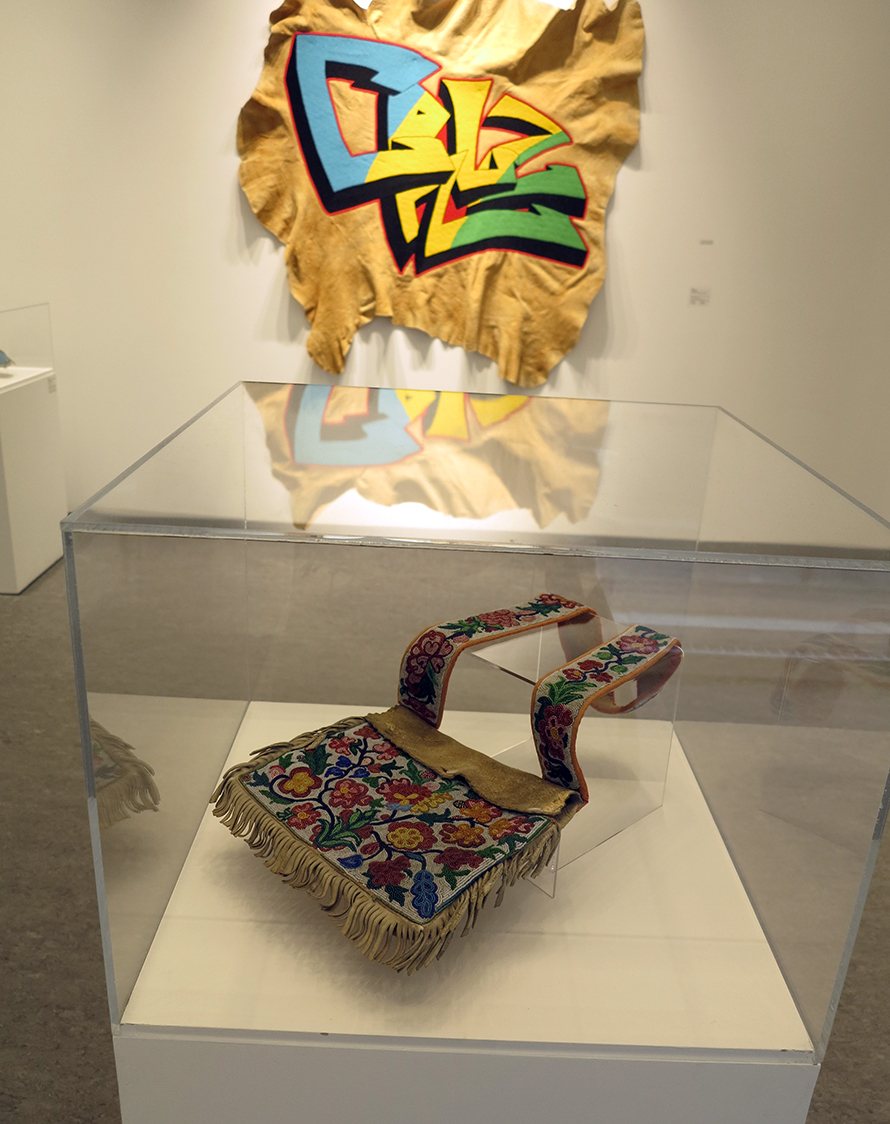 FROM TOP TO BOTTOM: Opening remarks at the Vernissage; attending artists; Judy Anderson with son Cruz in front of her work "There is Life in There" series (2018-2019); detail of North (white), detail of East (yellow), detail of South (red), detail of West (blue); installation with tobacco pouch (Nakoda/Dakoda, 19th Century) in foreground; installation view; baby carrier (Dene, circa 1960); installation view; shoulder bag (Cree, 18th Century) in foreground with Judy Anderson's "Exploit Robe (Toying Around)" in background. BELOW: "Beading Now!" catalogue and invite. All images by Leah Snyder.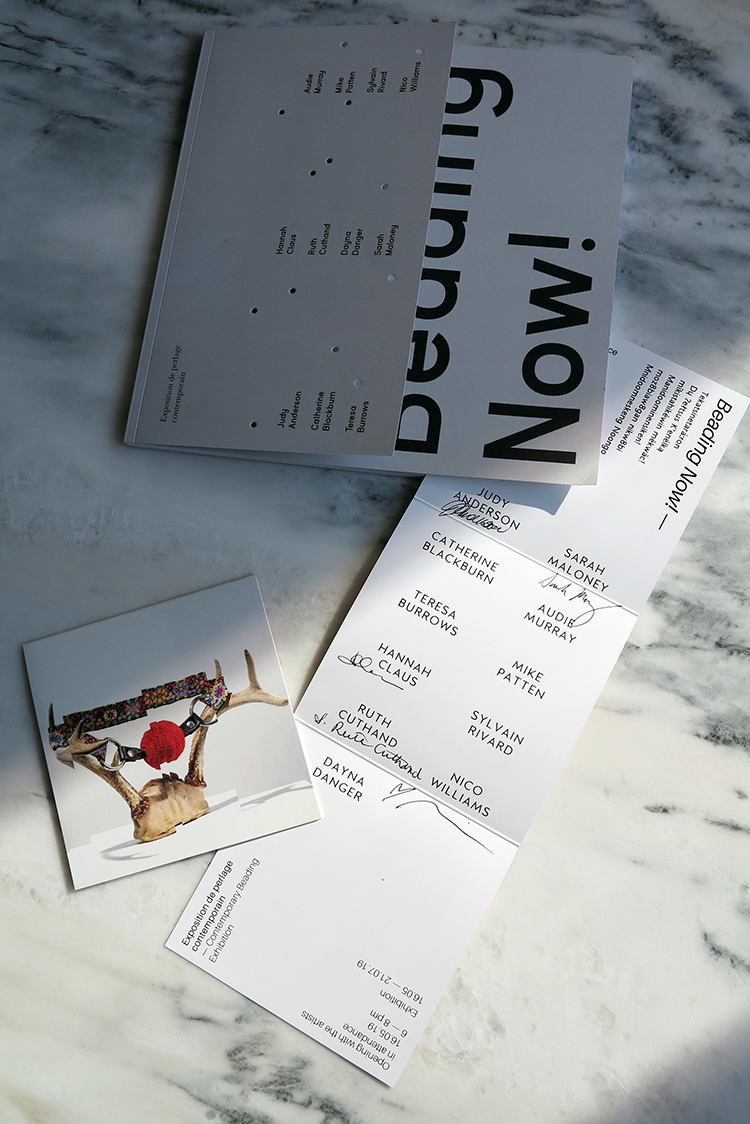 VIEW IMAGES AS SLIDESHOW

Citations: Beading Now! by La Guilde that includes Cree translations (Judy Anderson and Ruth Cuthand quotes) by Neal McLeod and Ojibwe translations (Nico Williams quote) by Jeannette Assinewai and Leona Nahwegahbow.