#Celebrate #NationalIndigenousPeoplesDay @OttawaArtG with Wrapped In Culture artist talk with Rosalie Favell, Barry Ace & Adrian Stimson
10 Indigenous Artists.
3 Weeks.
1 Buffalo Robe.
1 Possum Cloak.
OTTAWA FRIENDS! What are you doing tomorrow to celebrate National Indigenous Peoples Day?
If you don't currently have plans then I recommend this amazing project – WRAPPED IN CULTURE – at the Ottawa Art Gallery. Tomorrow some of the artists involved – Rosalie Favell, Barry Ace and Adrian Stimson – will be giving an artist talk about the project. Also skyping in for the talk will be some of the participating Indigenous artists from Australia. The event starts at 5:30 and the Ottawa Art Gallery is open 9 am to 9 pm everyday so you have all day to come see this stunning show which will continue through to September 15.
More info also available on www.wrappedinculture.ca.
FROM OTTAWA ART GALLERY: 
Wrapped in Culture is a collaborative project that brings together ten Indigenous artists from Australia and Canada. Working over the course of three weeks in November 2017, the artists created contemporary versions of an Australian Aboriginal possum skin cloak and a Blackfoot buffalo robe. This revives two culturally distinct, yet similar, artistic traditions that were used historically for both sacred and practical purposes. The artists worked collectively to complete the pieces from start to finish, including the design, construction and implementation, while visitors were invited to join in and learn about the history of these two culturally significant textiles. The robe and cloak are also objects that hold deeper meaning related to the identities of the artists, the significance of family and place, and the importance of intercultural exchange; creating kinship and understanding through the acts of making, sharing, and teaching.
CONTRIBUTING ARTISTS:
BARRY ACE (Anishinaabe [Odawa])
KERRI CLARKE (Boon Wurrung)
MAREE CLARKE (Mutti Mutti, Yorta Yorta, Boon Wurrung)
ROSALIE FAVELL (Métis)
MITCH MAHONEY (Boon Wurrung, Barkindji)
MOLLY MAHONEY (Boon Wurrung, Barkindji)
WADE MAHONEY (Barkindji)
MERYL MCMASTER (Cree)
ADRIAN STIMSON (Siksika [Blackfoot])
VICKI WEST (Trawlwoolway)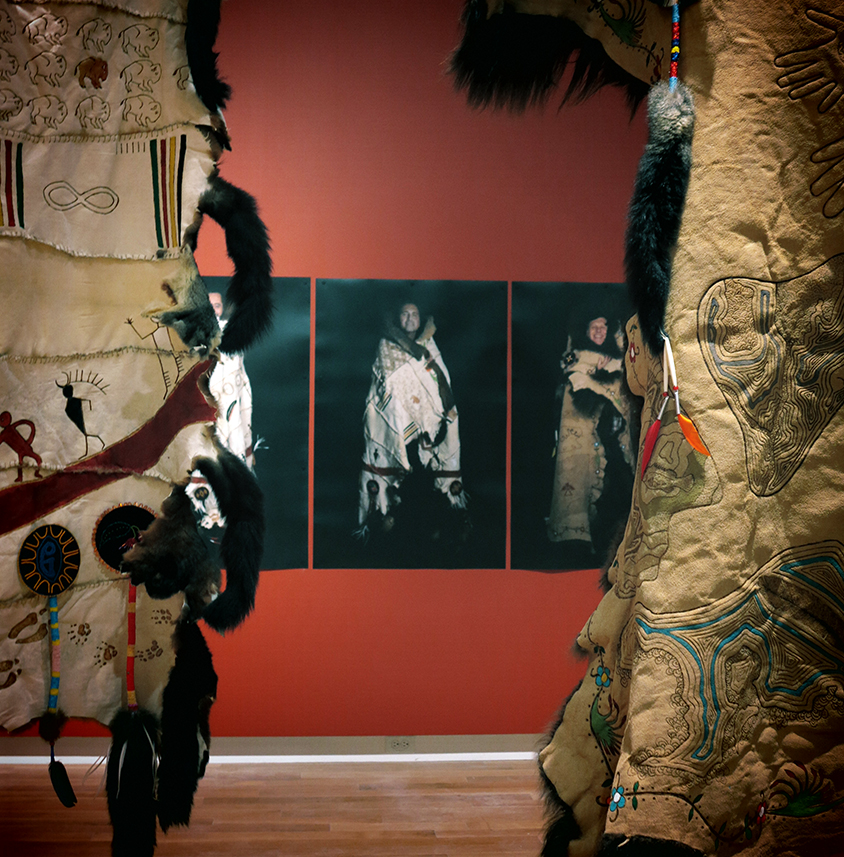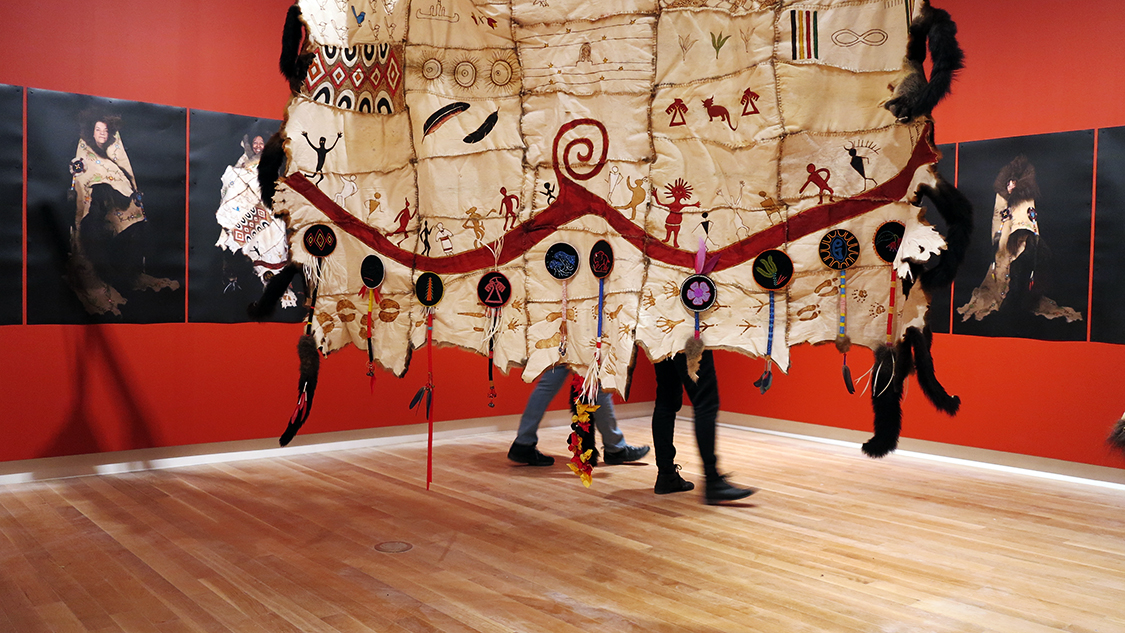 IMAGES: Top to bottom – Barry Ace and Rosalie Favell; detail of the Possum Cloak and Buffalo Robe with Adrian Stimson's portrait behind; Possum Cloak installed. Images by Leah Snyder.