CLIENT PODCAST: Indigenous artist #JeffThomas on @CBCUnreserved
Photographer and curator Jeff Thomas was recently honoured with the Governor General's Award in visual and media arts. It was a moment that brought him back to a life-changing event 40 years ago. (read more)
Last week, artist, curator and educator Jeff Thomas was featured on CBC's Radio's Unreserved show. Host Roseanna Deerchild's spoke to Jeff on his recent Governor General's Award win and how receiving that award allowed him to reflect on how far he has travelled in his life and career.
In his 20s, Jeff was in a serious car accident that left him permanently disabled. While in the hospital, after a near fatal car crash, and after being told he may never walk again, he vowed if he did walk out of the hospital he would do something that called attention to "the invisibility of Indigenous people in urban centres." Jeff, Onondaga from Six Nations of the Grand River reserve, was born in Buffalo. Growing up spending his weekdays in the city going to school and weekends on the reserve with his elders, he felt the disconnect between the two spaces, one where he was surrounded by his culture, the other where his Indigeneity was erased.
It is through working with Jeff, I have come to see a different layer to urban spaces and how those layers, when foregrounded, add a necessary dimension to the diversity of cities.
Listen to the full interview here.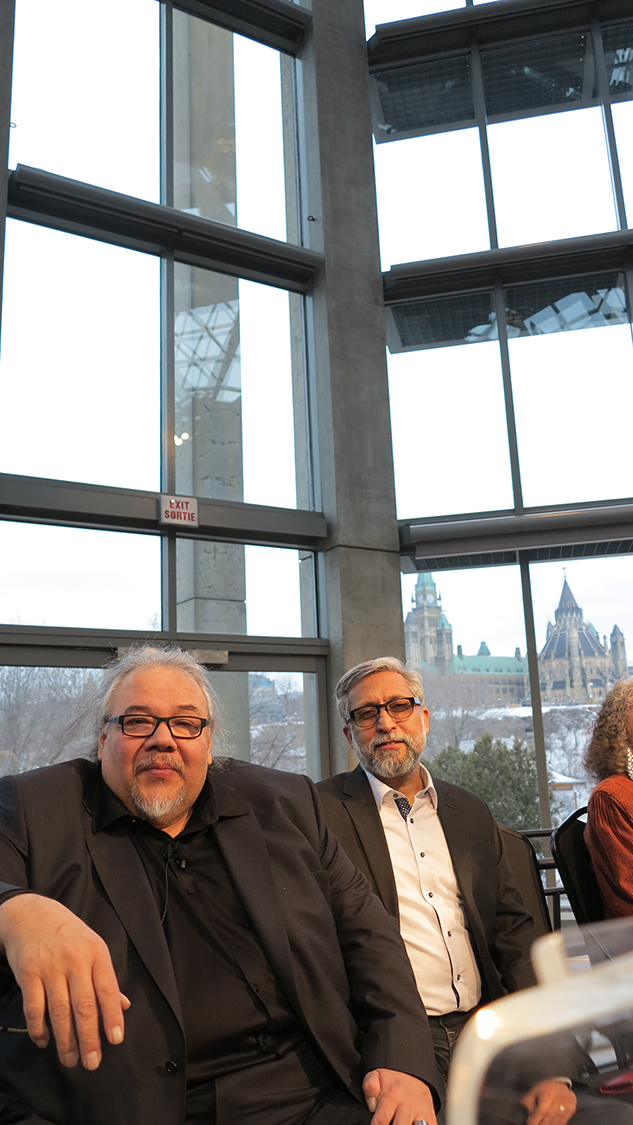 ABOVE IMAGES: Jeff Thomas with fellow Governor General Art Award winner Ali Kazimi in the Great Hall at the National Gallery of Canada at the Governor General Awards public ceremony. Image by Leah Snyder.